Monday was a beautiful day with no wind. I had to wait for a courier and rig the MidWay for bait fishing though so Monday was a dry day spent drinking coffee and surfing the internet. It was while I was flicking through World Sea Fishing that I spotted something that piqued my interest though. A catch report with a difference…this fella had fished the northern bay on Sunday and had Coalfish, Rockling and Flounder, the photos proving they were what he said they were. Oh. Three species there that I wouldn't have expected to get....…

---
I've only had Coalies up in Scotland and had only heard vague rumours of them locally, same as the vague rumours of Pollack. I'd never seen photos either. I'd not had a Rockling since I was a teenager either, a quarter of a decade or so ago and I'd never had a flounder. In fact I'd only seen the one caught locally and that was in my teens too. Tuesday was a no-wind day as well and I was off both the night before and the night after. I was going to make the trip. A post on Anglian Kayak Angling was edited and I had a couple of co-conspirators; James and Frank. Originally planning Corton they were as happy to go to Sea Palling instead. With Frank picking up some fresh lug Instead of James I got my head down ready for the morning…to the sound of fog horns. I'm sure they no longer serve any real purpose other than to annoy me. It was still there when I woke up. Freezing fog. It was -2.5 on the stay-at-home-in-the-warm scale. No wind though. And it was light already so I'd have expected a bit better. A bit of chaos going on at home, loading the kayak, organising the children, defrosting the cars and grabbing the right gear and then I was off for the thirty mile drive north with a broken heater and a squeegee scraper for constant screen clearance of the inside and occasional on the outside. I think I'd better get that fixed instead of buying bait. I pulled up an hour later having driven past the closed charity car park in the seafront car park – two hundred yards and a fiver separates the two…James and Frank were there already and we got the kayaks unloaded and ready, got the drysuits on, the tackle rigged up and then went off to park to the north. It was quite a trek and then, when I pulled up in a suitable spot I was all alone with two left boots to walk the mile back. Halfway and Frank arrives in his car having decided it was too far and checking he charity car park – closed but not locked. He returned me to my car and I headed back, paid my quid and fetch the kayak. A quick drag over the ramp and down to the sea and, with trolley stowed, I was ready for the first sea fishing launch on my new ride. There was some trepidation as the 3-5ft surf/dumping waves/swell was rolling in…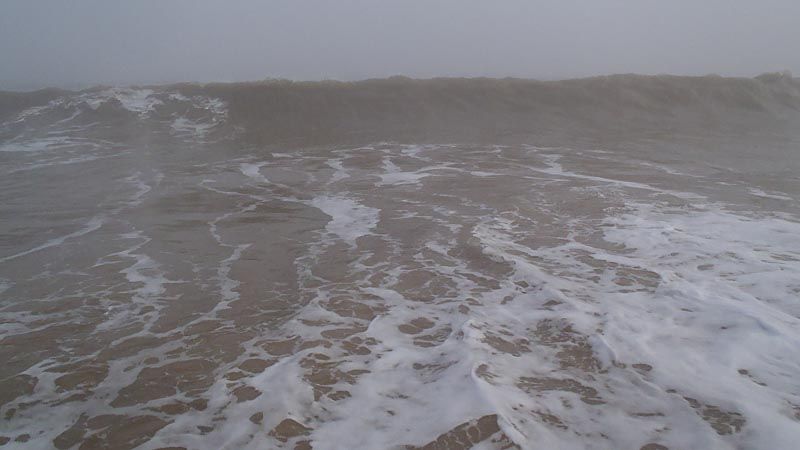 …so I watched and waited, finally jumping in on a flatter period and not intercepting any waves for a good fifty yards; up and over, dry.
James was next, heading up a little way to a sandbar with a bit more shelter and only took the one wave. We sat and waited for Frank, expecting him to swim as he ignored the flat bits and the shouts to come now. I was going to watch this. Fortunately (disappointingly) he made it out fine going over a couple of half-decent waves. We headed north.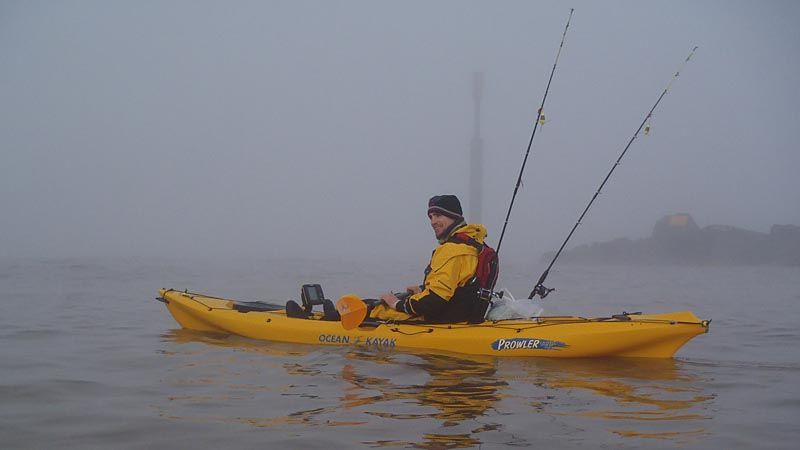 We had to stick together due to the fog and had to stay inside the reefs because of the size of the sea. We were sheltered here and besides we were scratching for bits rather than targeting dinner. This area is a kind of sanctuary for small stuff presumably with some larger fish coming in to feed perhaps so we might get lucky. I dropped anchor in 6-8ft and cast one rod towards the rocks and one downtide, what little tide there was here. Rank moved further up towards the end into 15ft and James sat a bit inshore.
Frank was first up, small whiting taking the bait. I was fishing the Warbird 220's with size 2 feather rigs baited with small fresh lugworm tipped with unwashed squid. Not for the feather's attraction, being dirty water, but as short snood paternosters. 4oz breakaway leads held them fairly well though I did get some bumping from them. I sat and waited some more.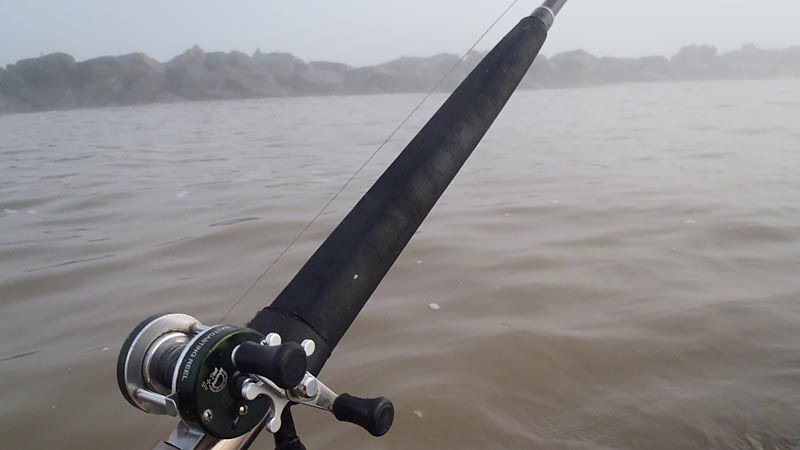 James had a dab. I'd not had a bite. Frank had caught again too; I hauled anchor and moved up into the deeper part and cast again, sitting back to watch the rod tips.
What would be my first sea fish caught on the MidWay? Would it be a new species, would it be the longed-for rockling or coalie? The rod jiggled a bit; I struck…and started to reel in, feeling something on the end…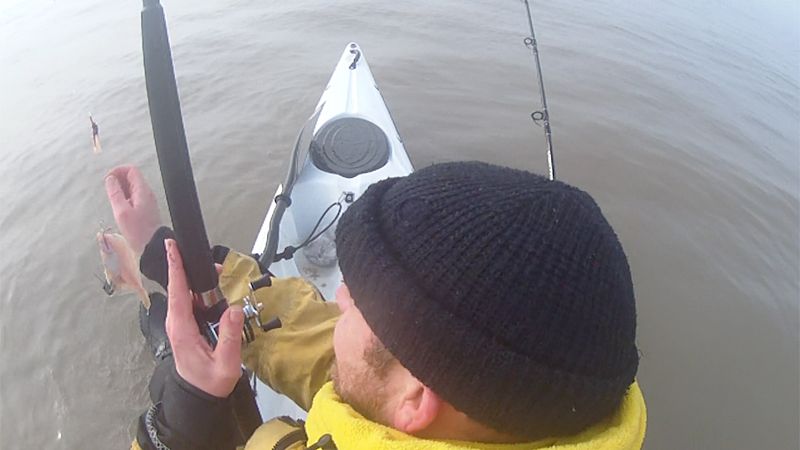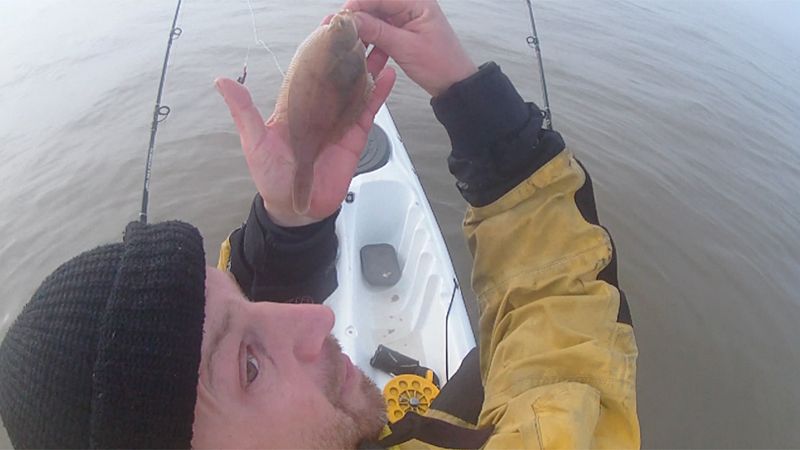 Good stuff, my first dab of the year…second saltwater species point for 2014 too. My smallest ever dab too!
I rebaited after releasing it and waited…not for long. I struck and in came perhaps my smallest ever whiting. This would be fantastic to drift down the reefs in the summer, the bass would nail it in short order! The small hooks were a good idea.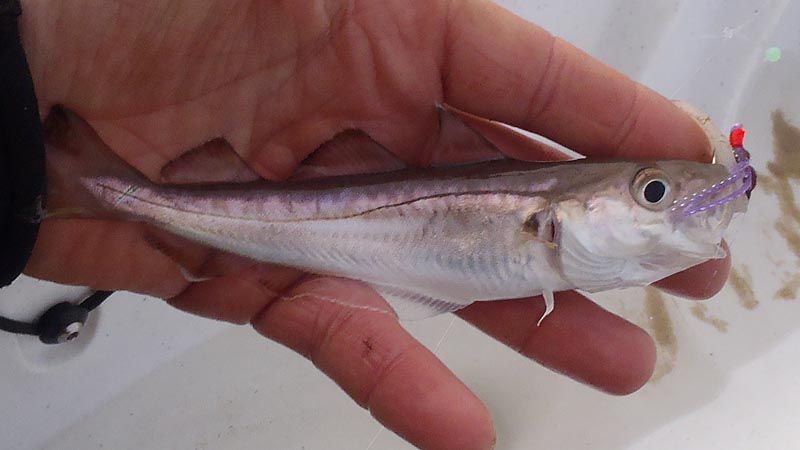 I was still waiting for my oddities though, what was next? Well, not a lot. The flow eased off to nothing and well over an hour of no movement and no fish passed, and then the dabs went crazy as the flow started. Thirty seconds or so and I had a bite each cast, good fun, good sport but only a couple of deep hooked keepers…but then, as Frank came over to say his goodbyes, success!!!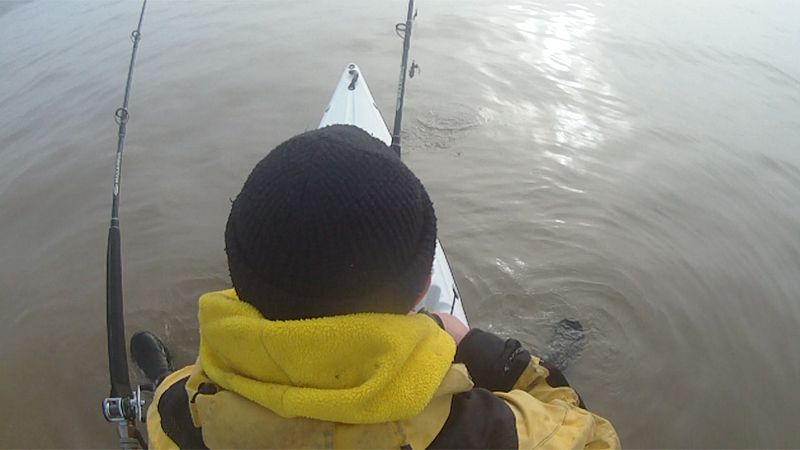 Imagine that, a sixty mile round trip to try for one of these, a rockling or slug as it's more commonly referred to. People don't like these – they take baits meant for bigger table fish, are slimy and slippery and good for nothing. They're also very different, quite attractive and have a bit of character about them. They're also impossible to grab hold of!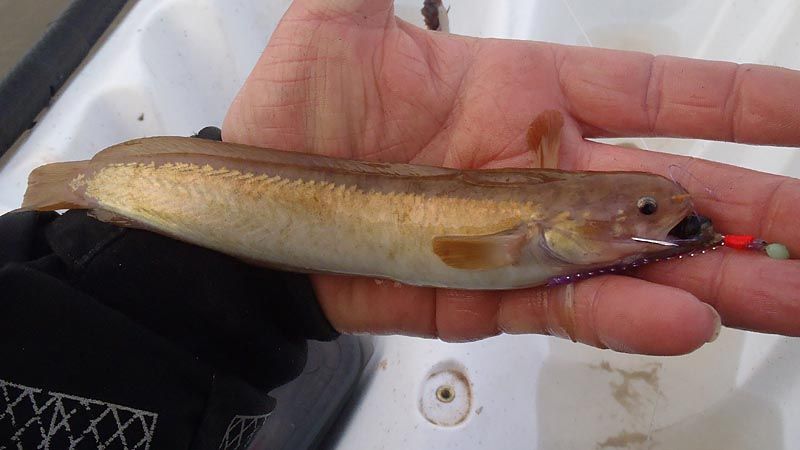 Great, a rockling, but which one? There are 3 bearded, shore and 5 bearded about; indeed Dave had landed a larger one of the former a few days previously and a few miles north; I took a close up and counted the barbels; 5 bearded rockling.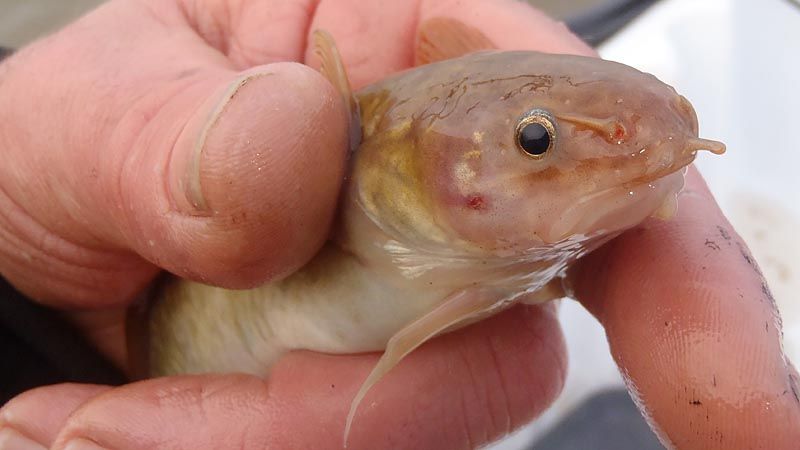 Frank paddled back to get a photo and I reciprocated.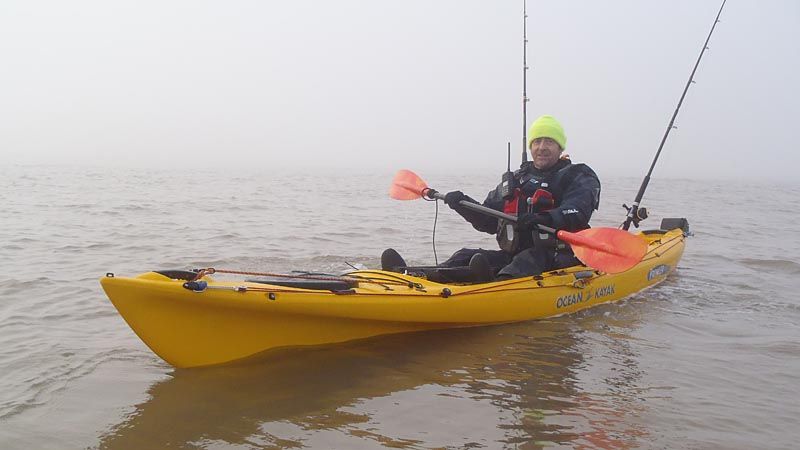 I sat back to wait events.
With Frank gone James, who'd had a flounder to add to his list, came over and joined me closer to the reef. There were some good waves rolling in through the ends, some of them up to 6ft which lifted us straight up, pulled against the anchor trollies and hauled us backwards. It was somewhat exhilarating when they came through and we kept shouting warnings across…the MidWay didn't miss a beat though.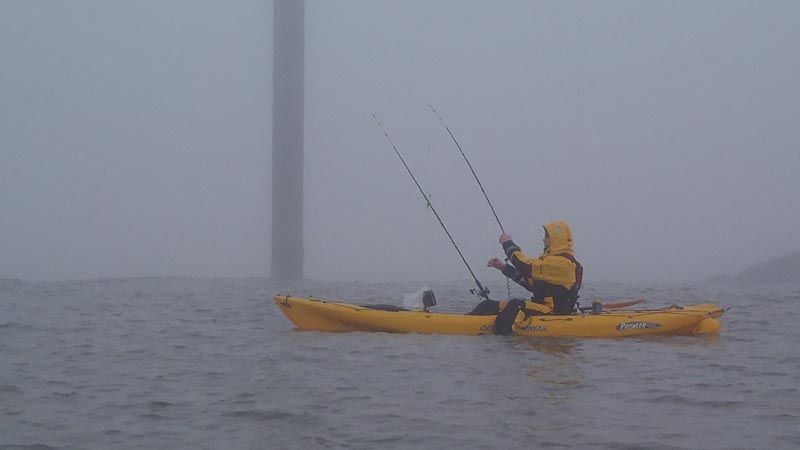 Then, while dealing with one rod the other started to bang nicely. I struck it and left it there, banging away. I knew the fish was on. Winding it in soon after though I kicked myself for my foolishness, it was off. What had I done – again? I'd lost it. I really should learn. No matter, I carried on hauling the dabs while James, spawny chap that he is, landed a two-inch sole! Marvellous, and was I jealous? Yeah! Only ever had one, my first kayak sea fish way back in 2006. Still… I was getting really cold now, James too. We decided, with time getting on, that we'd have one more fish each and then head in. James landed a dab minutes later and then…and then…and then…I waited. Finally the rod bucked, I struck and started to wind in. Things weren't happening, the drag was slipping so I gave up and not wanting to lose this fish – I'd changed to my little rig with size 6 hooks – I handlined it the rest of the way, grinning and whooping when I saw it and hauled it aboard; my first ever flounder!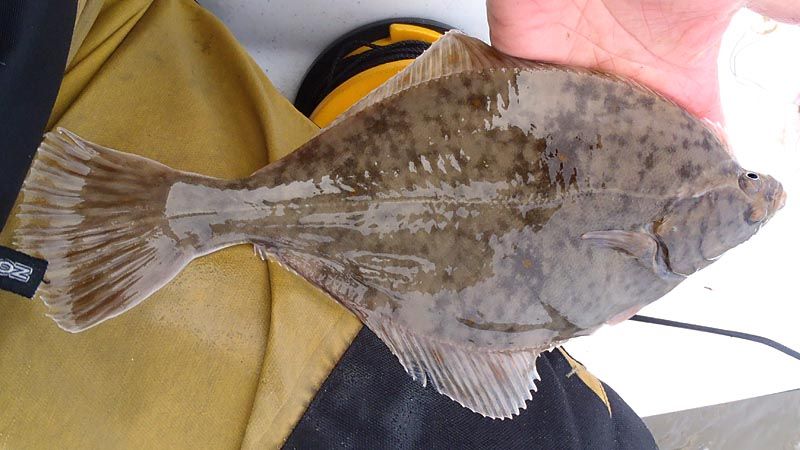 I'd done it, two out of three. I was chuffed, well worth the effort. We up-anchored and I paddled over to the gap at the end of the reef to try and catch a wave. They were big but not standing up and I was shaking from the cold making he kayak wobble. I picked some speed up but each rolled under me, bringing me closer in to try again. With James just behind and close by I turned and saw a biggie, curling nicely. We were too close and my legs were shaking, I'd not have any control. In my Scupper, familiar as I am with it, I'd have been fine bar the shaking. With the RRRapido I'd have scooted along and had a marvellous ride. I didn't dare this time, my rods strapped to the hull and the thought of a soaking before driving back with no heater saw me chicken out, turn and ride back over it. We headed towards the sand bar and landed calmly instead.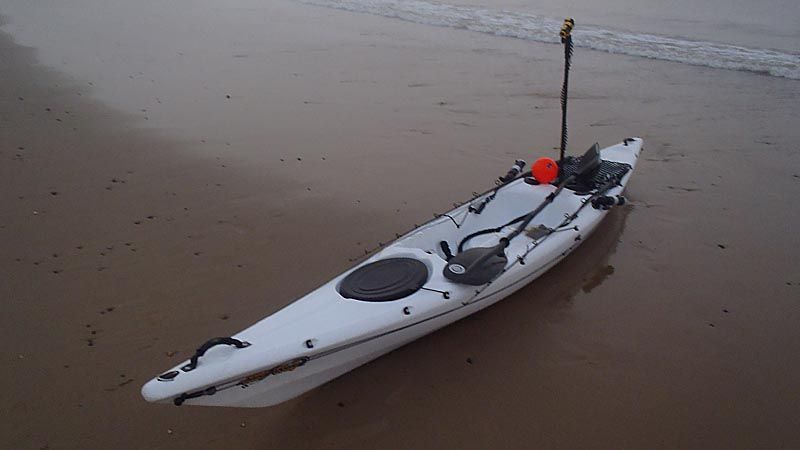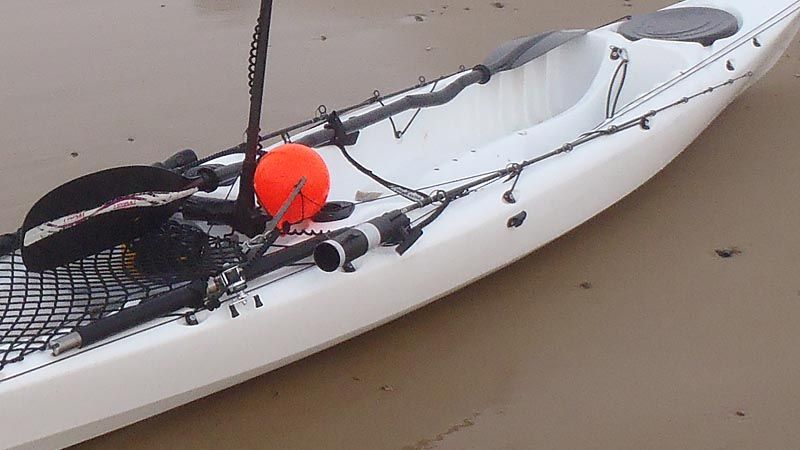 We got moving as soon as we could, once we'd hopped out of the yaks and the blood had started to flow we chilled further, rapidly. It took a few hundred yards to get back up to temperature. It had been a marvellous session despite the conditions and well worth the effort. The sun finally appeared as it set most of the way home and all I had to do was inch through the traffic back to the house. A postscript I suppose. I was slightly damp in my drysuit which I'd finally dried out after taking water in during myself-rescue practice last week. It's now worn out after three or four years and a good couple of hundred launches. Time for some new replacements. With my Sidewinders also shot it's going to be a big package when the courier comes through the door with a the latest version of the Palm Aleutian drysuit, which is apparently superb, for the winter and an Ion bib with either the Alaska or Oceana touring jacket, to go with my Symbiant Tour buoyancy aid and Kola boots which have served me well over the years.