2014 Black Limited Edition RTM Tempo Angler



It was 2009 when I first started paddling an Ocean Kayak Scupper Pro TW and I loved it. This was such a great kayak, it tracked well, it surfed, it was good under sail and it could handle any conditions I took it out in which were often conditions where I shouldn't have taken it out but after finally being discontinued and wanting to change brands I decided in 2013 that it was time for a change; the only problem was there wasn't anything else on the market that was as good or better for my needs. I knew about the Tempo of course, the RTM version that was a modification of the licence-build mould that had been produced at one time in France for OK themselves and so this was what I decided to change to. It was while looking for information on this that I spotted the DAG MidWay, DAG being part of the Rotomod group and here at last I found something that would allow me to develop things further and a company which produced the kayaks that I needed. So, I approached Totaloption, the UK distributor and the long-term loan of both of these boats was agreed, along with the formation of an RTM Fishing Team in the UK.

---
I've spent the last three months paddling and fishing from the MidWay and I love it. Fast, light and eminently capable of fishing in decent seas and strong tidal flow I was a bit unsure if I'd want to be stepping back into what is, for all intents and purposes, my previous kayak especially as I'd now got used to it and was enjoying the extra performance; I'd paddled the Scupper a couple of times during the spring and though I still loved it I noticed how much wider, heavier to paddle and slow it was in comparison, though the additional stability was also revisited. Now, originally I'd wanted both in the Grey Storm colouring, a matching pair as such, but with the MidWay being in stock in white immediately I decided to go with that instead, awaiting a Grey Storm Tempo to arrive. Fortunately this was delayed and I happened upon an advert on the French RTM site for a limited-run special addition…RTM Tempo Anglers in BLACK! And they looked gooooooooood! I changed the order and waited a bit longer.
Well…fast forward to today. I'd been up all night on shift and with the colleague I took over from the night before having today off we decided to go out for a paddle, his second trip after a play around in four kayaks a week or two back. Dependant on what time the kayak arrived. So, I went home, went to bed and at 10:45 the door was being knocked upon and down I went to take my new ride off the van. Now, how good would this look? I went in the kitchen and took my favourite Sabatier knife out of the drawer. This is my filleting knife so is as sharp as I can get it; it made short work of the packaging and there she lay…
Oh my. A stunner! In the flesh she looked even better than the advertised photographs. Black hull, black fittings, black deck lines…it looked like a fighter plane, designed for performance and looking purposeful. None of this rubber-duck bath toy colouring, this was pure sex and more hardcore than the clean white lines of my MidWay. More than that in fact. Pure porn. My neighbour, who I don't normally speak to, came out then and took one look and remarked how gorgeous it was; then Myles arrived and he was impressed too – and he has a sporty German roadster. There was just no delay, we got dressed and went down to the beach with my black and white pair.
So, a quick walkaround with the camera first, checking out the build and fittings. Overall the moulding quality is very high, smooth hull for extra speed, grained deck for extra grip with the only blemish being the finish on the bottom of the scupper holes which was a little rough but nothing that a quick bit of sanding wouldn't take care of; at least they don't project like the Scupper Pro's rear tankwell scupper does, wearing away and causing leaks. So, starting at the bow of this nuclear submarine…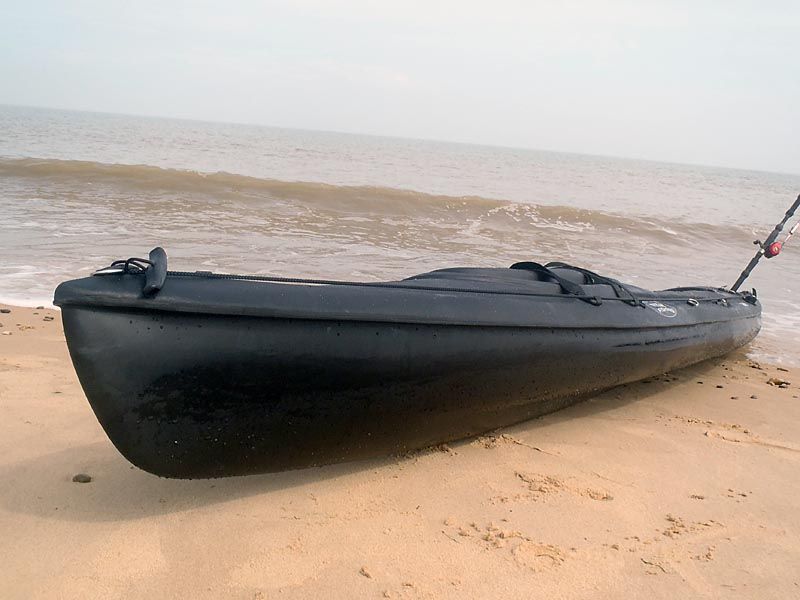 A clearly defined separation between hull and deck, perfect for keeping the anchor trolley lines below the cockpit. A blunt bow, seemingly lower and slimmer than that on my Scupper from memory (I need to check this) and, as I've said, smooth plastic. A slicer.
On top, there is of course the toggle handle, for carrying and pulling, this attached to a substantial deck fitting with a short cord (which will be replaced with a longer one). A stainless steel D-Ring is also attached to this which gives me a perfect mounting point for my Pacific Action sail. The declines also run through this though these will be removed as an anchor trolley system will be fitted to both sides which will take their place. And of course a drain plug to empty any water I get inside. This is fitted in the same position as on the Scupper Pro and I can't help wondering why it's not right on the end of the bow so that water can be poured from the lowest point but it'd only leave a minimal amount when upended anyway.
Then there's the bow hatch. Substantial fittings again, holding thick nylon webbing.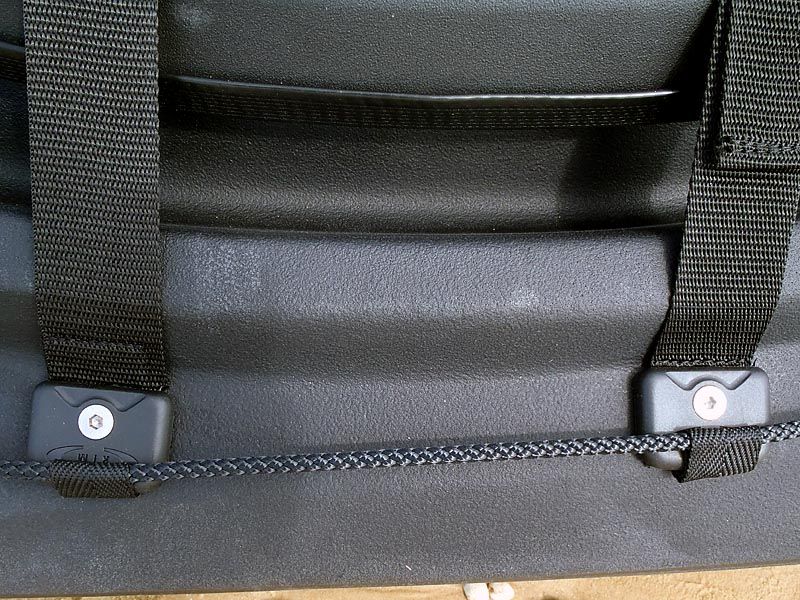 The bow hatch is attached to one of these too so that opening it at sea will not see it float away.
Strapped down by two of these and secured with wide, heavy duty quick release buckles, the large bow hatch is fitted over a tubular rubber rim on a raided flange with a recess below. The hatch itself is moulded to allow the carrying of two spare water bottles (or containers carrying other items) which will increase its rigidity. A very good bit of thinking.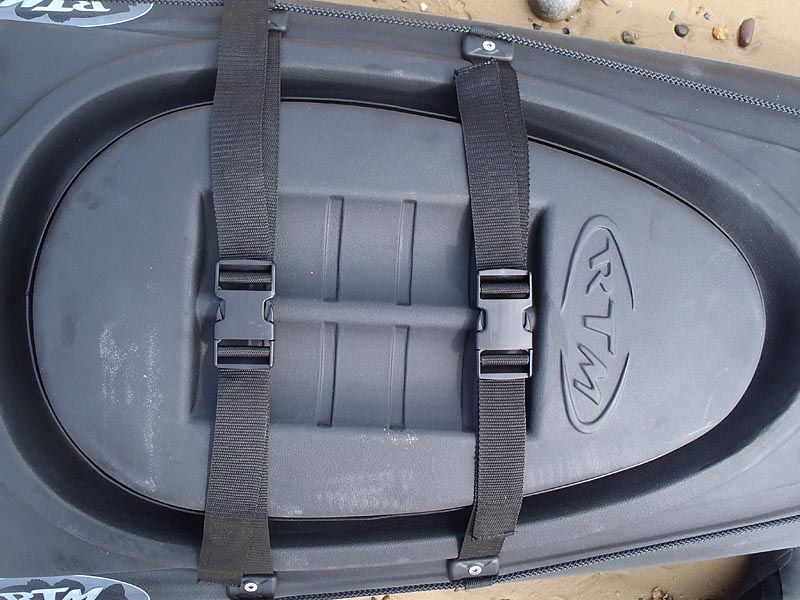 Then onto the cockpit. Another recess for a water bottle, handy also for chucking bait into, and prominent foot rests. I love these as they allow superior force to be used for bracing and control than adjustable footrails and flat bottoms. This isn't a stand-up flat water boat, it's a tourer. Channels for drainage would be a good alteration but these allow water to run both ways, in and out, so are really six of one and half a dozen of another; this jury is out on them. Each side features a large scupper hole for drainage.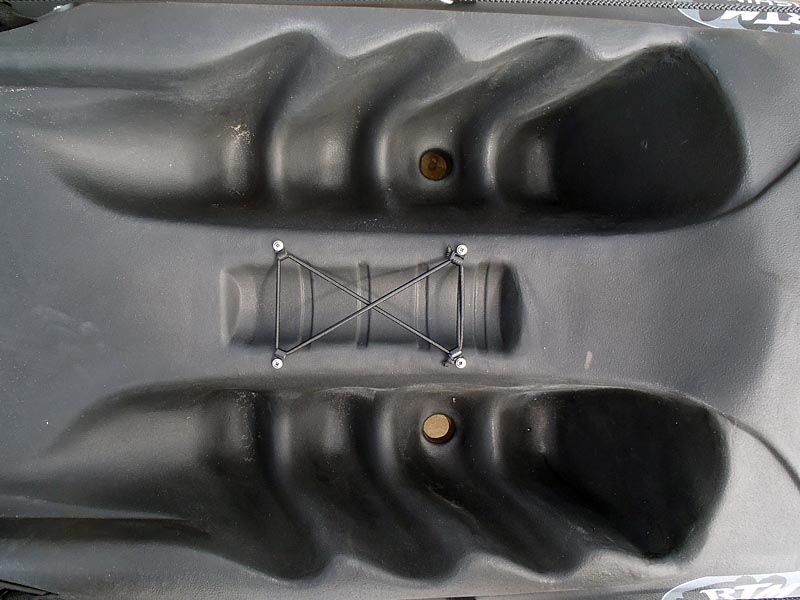 The gunwhale, by the feet, also features more D-Rings in the right place for a sail to be fitted or a paddle to be leashed. Nice and easy. On the Scupper Pro a recessed area for a Scotty mount complete with inserts would feature here which I'm pleased to see is not present. I don't like being forced to use specific fittings in specific areas or made to compromise on the mounting of fittings I wish to put somewhere because of predesigned mouldings for something else. The Scupper also has a central transducer scupper hole which adds to drag if left empty or leaves the transducer projecting below the hull and exposed to damage (I've actually ripped one off on landing before now) and requires an overpriced plastic fitting to hold it, provided you get a Humminbird unit…I far prefer sticking a transducer away inside the hull and being done with all that untidy cabling, protecting the transducer at the same time even if there's an ever-so-slight drop off in sensitivity. As if a moving kayak subjected to waves would be an accurate platform for precise surveying. No, goodbye bells and whistles, hello weight saving and freedom! The area ahead of the seat is also flatter and slightly larger than that on the OK offering which will give a better platform for mounting a deck hatch if I decided to put one in.
But the Tempo comes with fitted side mount carry handles, and substantial, quality ones at that. The hull is also scooped below them to make things even more user-friendly and on the starboard side a bungee and button allows a paddle to be stowed, along with another stainless D-Ring which can be used to attach seat, sail or leashes to.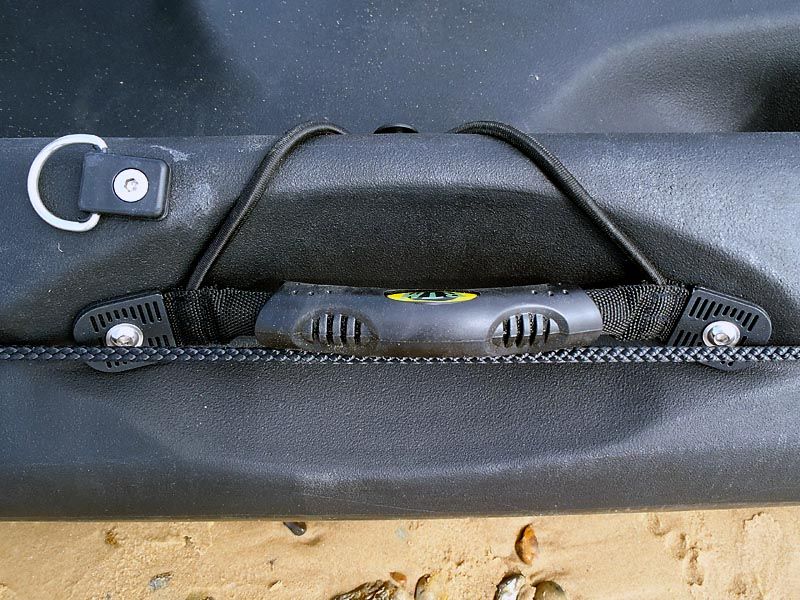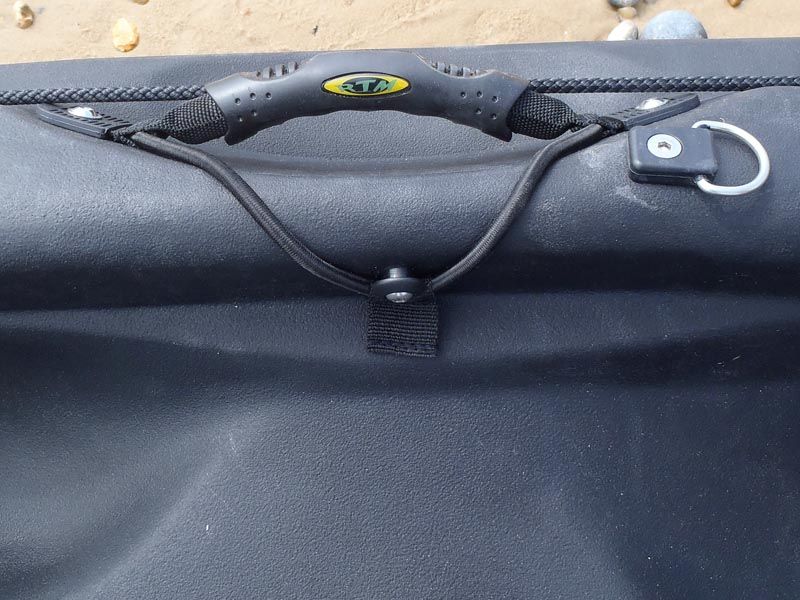 As I predominantly anchor from the starboard trolley lines this is on the wrong side for my paddle and I don't think it's in the best position either, while on the water so I'll remove and reposition it with one each side.
The low-slung seat, which lowers the centre of gravity and gives greater stability and control because of it, does not have scupper holes for drainage. Some will regard this as a drawback as water won't drain and might make the paddler cold. Others will regard this as a bonus as water won't come in from beneath and make the paddler cold. My personal take is that this is a watersport…and there's nothing worse on a winter's day when you've warmed the puddle you're in (which you could bail if it is sealed and you can be bothered) than shifting forwards, shifting back again and suddenly having a cold puddle again as the water is flushed.
Next comes the rear-facing flushmount rod holders. These are very high-quality mounts with rubber covers and another D-Ring to leash rods to. My covers will be removed as I prefer the holes to be instantly accessible for trolling. I'm pleased to say the rods will be angled out rather than running straight back as per the Scupper Pro which means I won't need to remount them to get a better spread for trolling. I can't abide the lures running on the same line as me as it makes fishing close to structure more of a risk and causes more disturbance which can scare fish away.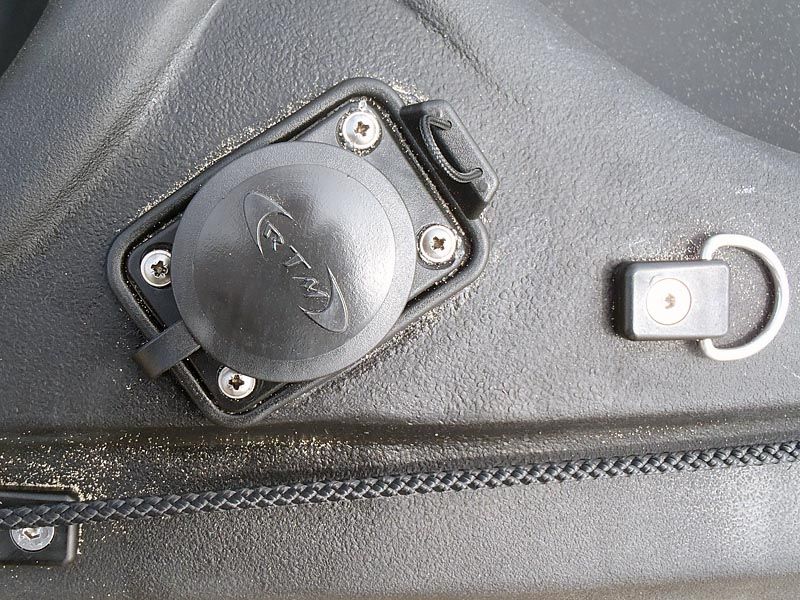 Then, the rear tankwell. This is a rounded-off bucket which may not be as desirable for the crate-carriers amongst the kayak angling fraternity, which I never have been, but is more desirable for those of us who want to use it as a fish store as there are no edges for bruising fish against. It's also covered with a removable cargo net which offers more security than a criss-cross of bungee. A couple of P-Clips at the rear will batten this down even more. Another D-Ring allows for the securing of a stringer or other accessories.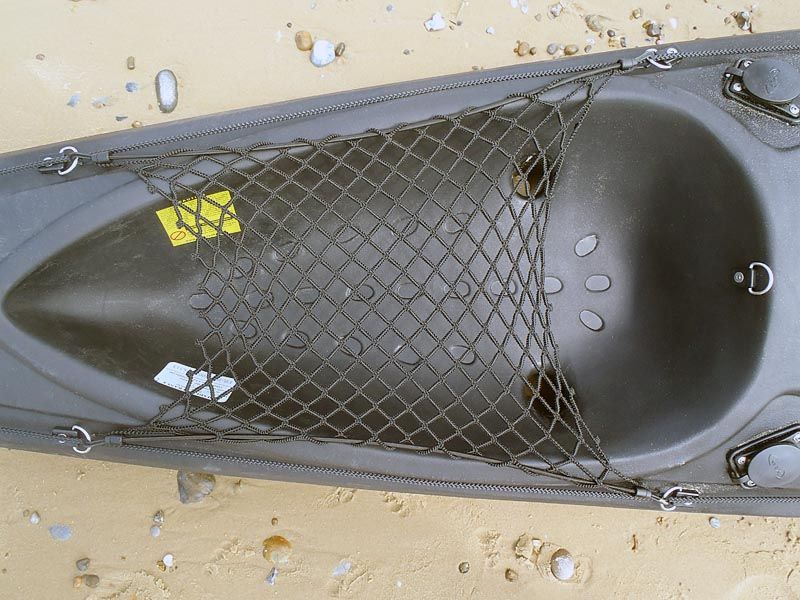 Then to the stern. Another D-Ring and toggle handle right on the stern, centrally mounted. None of this brushing against your leg as you walk or lopsided carrying as with many other models, the handles are actually in the right area. The stern is also more pointed than that of the scupper and without the squared off end that is moulded in to take a rudder. That's right, you can't fit a rudder. There's no real need on a kayak like this though it does have a use on the exposed rocks that I troll for bass in that I can kick down hard on one side to take me straight out when I get a run and makes for a better sailing experience but these are luxuries negated by the extra weight, trim change and risk of snagging. I don't need a rudder.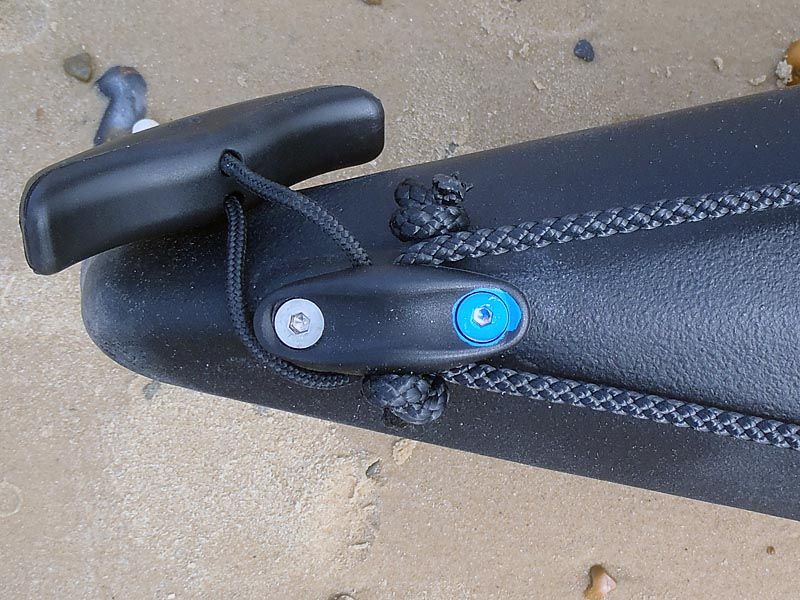 So, that's the top accounted for. Now for the inside of the bow hatch. First of all there's the French regulations of having additional buoyancy. Towards the front of the bow a large polystyrene block is wedged in. this also increases stiffness for paddling and will provide a firmer base for a sail for minimum weight.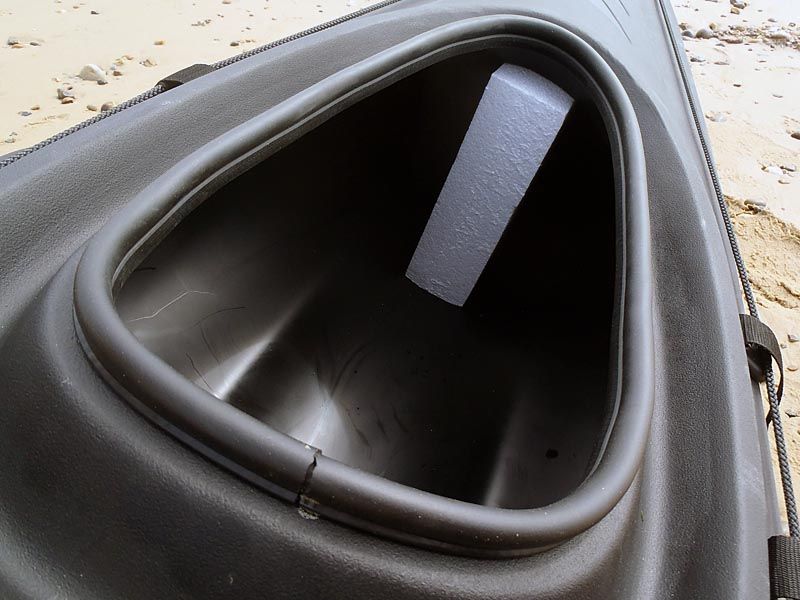 More buoyancy is provided looking backwards with two long foam blocks run down the inside of the gunwhales. I'd retrofitted similar to my previous kayaks and they do provide peace of mind.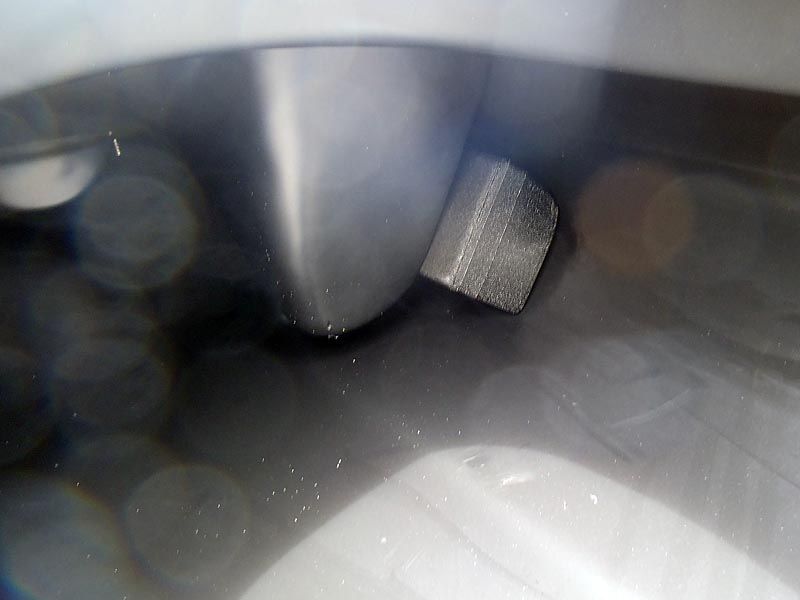 The hatch itself is capacious. Even with those blocks in a C-Tug trolley will still fit in broken down and there is plenty of spare room for other equipment or even rods to be stowed away for rough launches and landings.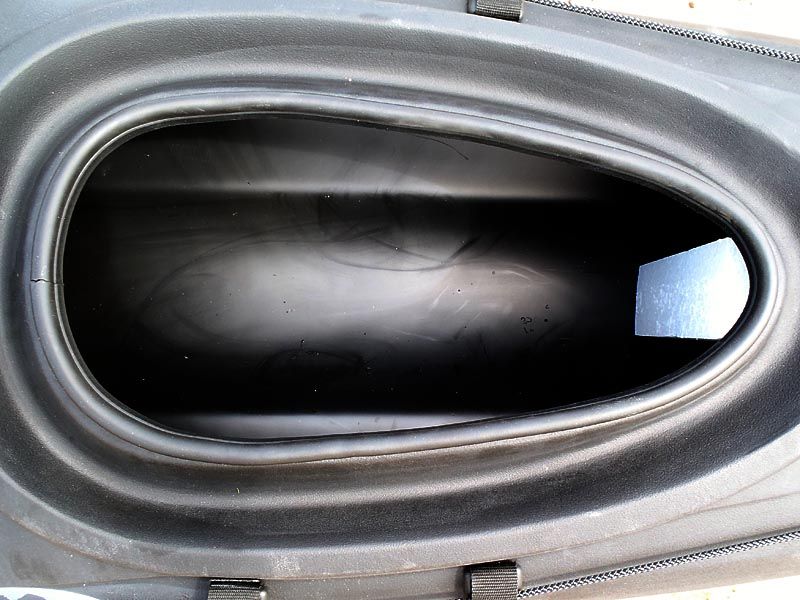 And the hull? A straighter line than that to which it pays homage at the expense of rocker. So it'll be slightly less manoeuvrable in surf but will track slightly straighter. It has a longer waterline length too like this and should therefore be a bit faster through the water with a better glide, perhaps also less prone to wandering at anchor. The Triform hull of course gives an excellent compromise of both primary and secondary stability and the centre section acts as a keel, running full-length too unlike some of the competitors.
…and being French it has a sticker attached giving its limitations. Legal limitations anyway…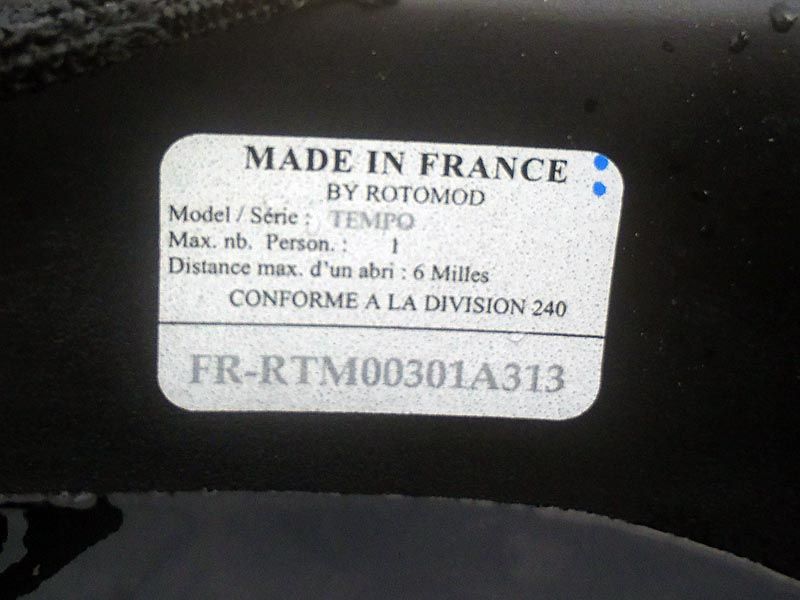 So there you have it…the £599 limited edition black RTM Tempo Angler…isn't she just beautiful?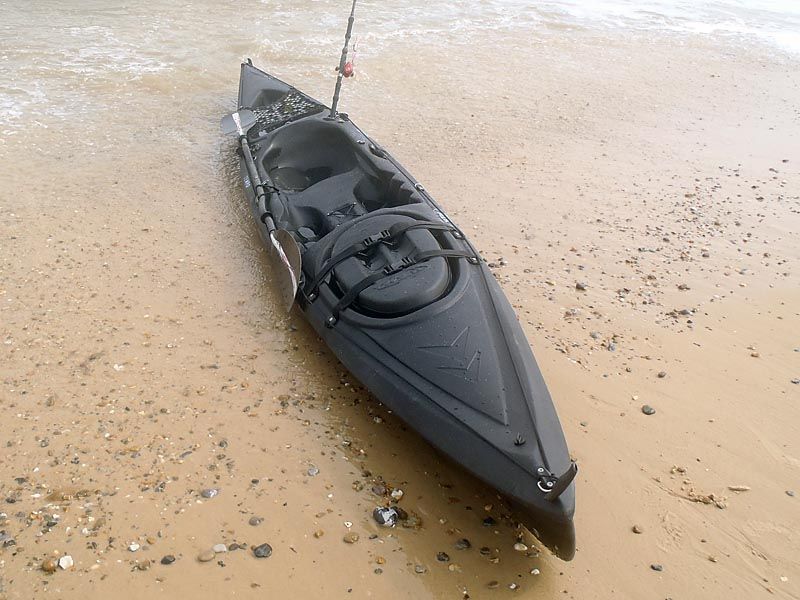 Part Two, the Initial Paddle.
I'd now owned my new black Tempo for nearly an hour; it was time to get her wet. I was expecting much the same as I'd had in the four or five years of paddling the now-discontinued Scupper Pro, the original and by far the best of the Ocean Kayak range throughout their existence, at least in terms of the paddling experience. Familiar territory. Sea conditions were ideal for me to have gone way offshore chasing spurdogs and ray which have both just started to appear but time and taking a colleague out negated this option…but what a sea! It was flat, the wind was below five miles an hour and the sea was as clear as it gets. I had to try a lure in case of an early bass. With Myles seated in the MidWay and launched I hopped into the Tempo, the first black one in the country, and paddled it straight out from the beach.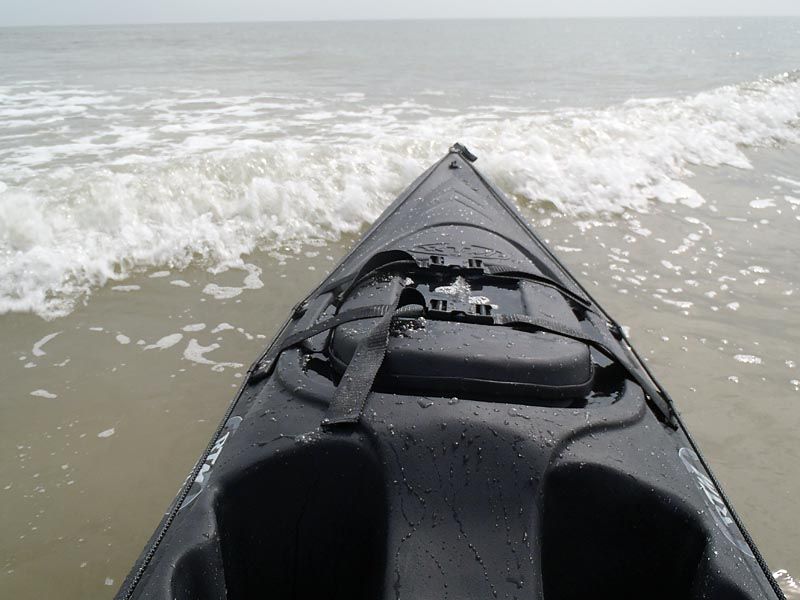 It was disconcerting. This was a different kayak to the Scupper. I was somewhat surprised to say the least. Bear in mind that it isn't yet rigged for fishing so is a couple of KG lighter at present than my Scupper but even so I've paddled enough of them, rigged and bare from three different factories to feel it immediately. It was a very light paddle, effortless in fact. The differences, to recap, are less rocker and a longer waterline, three less scupper holes and a smooth rather than grained underside and a stiffer bow from the polystyrene block. It glides. I was paddling with my cranked carbon Nordkapps at the end of two weeks of nightshifts having not been on the water properly for a couple of weeks, had no coffee or food in me and wasn't in the greatest shape to be going any real distance but…
We rounded the harbour and headed north. Even in the rips by the harbour mouth and along the wall I didn't have to do anything, just dip and glide along, cutting through the water. It definitely seemed to be the faster boat of the two and seems on a par, disregarding initial acceleration, with the MidWay Angler. It was smooth. The seat is comfortable even without any additional seating and the footwells were in the perfect place for me; I could exert pressure on them for a sprint too if needed. There was something else too. It didn't seem to drag at the rear. Perhaps this was the sharper stern or? I turned and looked in the tankwell. There was nowhere near as much water in this as I'm used to seeing from the Scupper and therefore it rides higher at the back from the lack of extra weight and additional buoyancy from the shallower, smaller tankwell. Little things…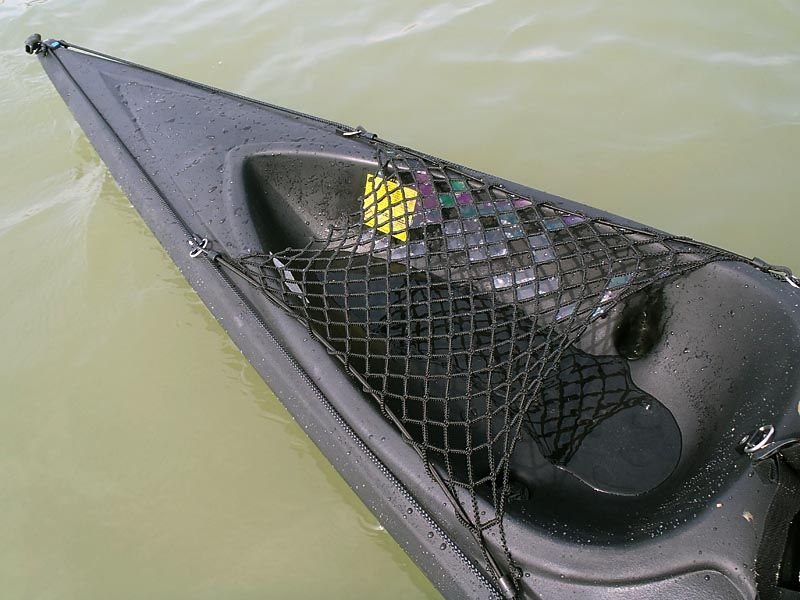 It's clearly a different boat, like a fitter sister rather than a twin. We covered three miles without breaking a sweat even though it was a warm day and then beached to swap.
I jumped into the MidWay and noticed the difference in balance immediately as I paddled out and then Myles followed out in the Tempo, beaming. He liked this. He liked this a lot! Now, Myles isn't unused to water having been a board surfer but his kayaking experience is an hour or two the other day in the Scupper Pro, Prowler 13. Tetra 10 and MidWay. Of the four he'd preferred the Prowler but this was forgotten now, this was his clear favourite and he asked about price. 'Ker-Ching!' If he buys himself a kayak this will be the one. And after the three mile return journey this was repeated, with no reservation. That speaks as much as any opinion of mine I think.
Now, I'd normally go into a bit more detail but there's not really much else to say. It's fast, smooth, stable. It glides and tracks beautifully. It has no vices on a calm sea. So now I have to wait for wind and rough water to come along and get the camera rigged for self-rescues and anchoring tests and then get her out fishing. Tomorrow morning she gets modified with rod holders, anchor trolleys and so on and then she'll be ready. I guess my choice of Tempo or MidWay each day will depend solely on my feeling black or white. So, instead of detail, here's a newcomer painting a few thousand words in pictures.
Stage Three. Sikaflex on Every Surface of the House
Before I do any more testing I need the cameras rolling. A foggy, wet morning put me to bed instead of to sea so, with all afternoon available, I got the drill and box of jewellery out and set to work turning the Tempo into a Snapper Yak. All the proper sea trials will thus be done with a rigged boat, additional weight and protrusions included.
First of course is the change from touring kayak to anchoring platform so an anchor trolley needs fitting. Or two in my case. There are a few reasons why I always fit two full-length systems to my kayaks and it's not just my OCD. Firstly, I have a spare if I break or have to cut one side off. I've cut out twice, so this is a real consideration. Secondly, I can run an anchor out from the most suitable choice dependant on wind, wave and swell. Thirdly I can run a drogue in either direction and put one out on the opposite side to the anchor if I need to stabilise myself. Say in a crosswind. Another consideration is that I can attach myself to the bank on either side when fishing a river or alongside structure. Lastly it gives me a grabline either side, as the fitted grablines come off straight away.
So, grablines off, flusmount covers cut away and I begin. Rigging is identical to the MidWay with the exception of the rear video camera mount which I've put further back for variety.
Two holes and a squirt of sikaflex 291 into the holes, another onto my hands, close to the bow and again close to the stern. I go vertically as it gives a neater presentation as I use a ball to trap the shock absorber under there. With a knot I'd use a horizontal mounting. Laws of physics point towards horizontal being stronger but I've never pulled one yet. So, trifold rivets, one nylon strap eye, a ball, 2-inch length of bungee and a pulley block at each end on both sides…and sikaflex in my beard.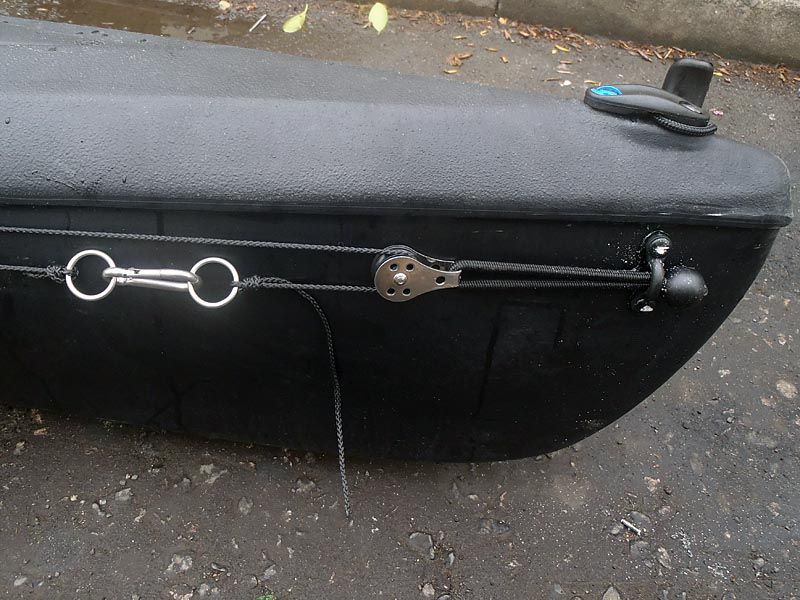 Next, a loop of 2.5mm braided nylon potting cord tied off at each end to a stainless ring, connected by a small stainless carabiner. Why a ring at each end? I can use it to tow or to be towed (or attached for other reasons) and can hook myself to something either way. For fifty pence and an extra ounce I have built in versatility, as with the trolley systems either side. Lastly, I fit a slimline cleat to the sides, in a position that will be out of my paddle arc and easy to access for both the anchor trolley and my sail control lines if I decided to use it. One fitting, two jobs.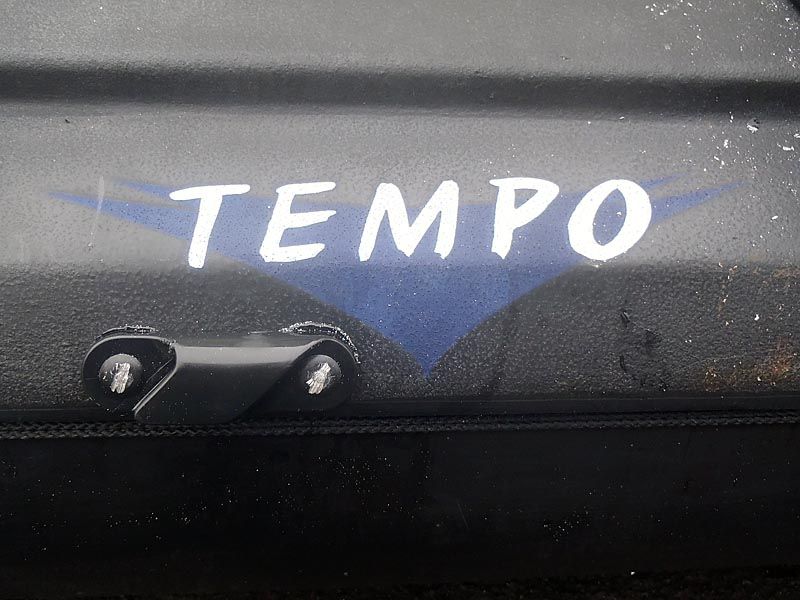 Right. I can stop now. If I'm stopped I might as well fish so on with my forward rod holders. I've always been happy with the rotating Ram tubes since I first fitted them in 2007. They work and work well. Where to fit them? There's little choice due to mouldings so…a D-Ring attachment point ahead of the flush mounts comes off and the holes get drilled, sikaflex squeezed in there and getting on my nose as well. Three trifold rivets, as always, and on they go.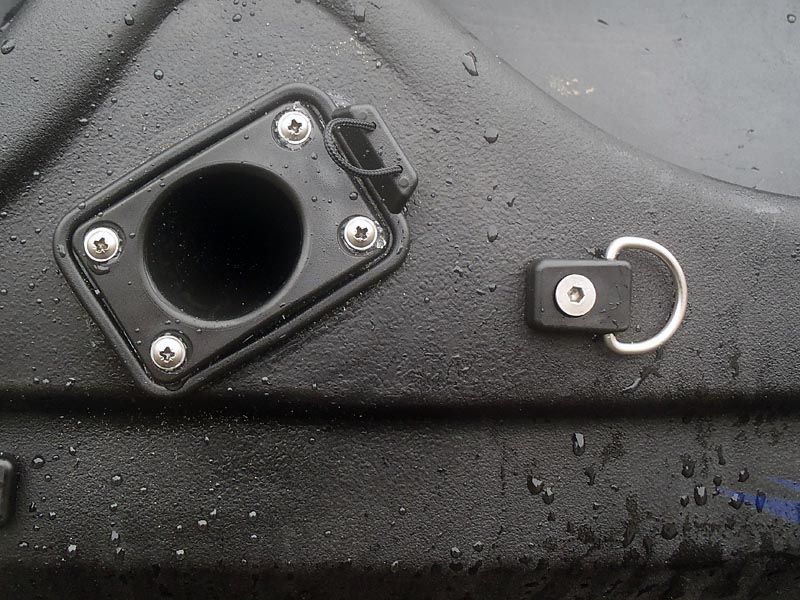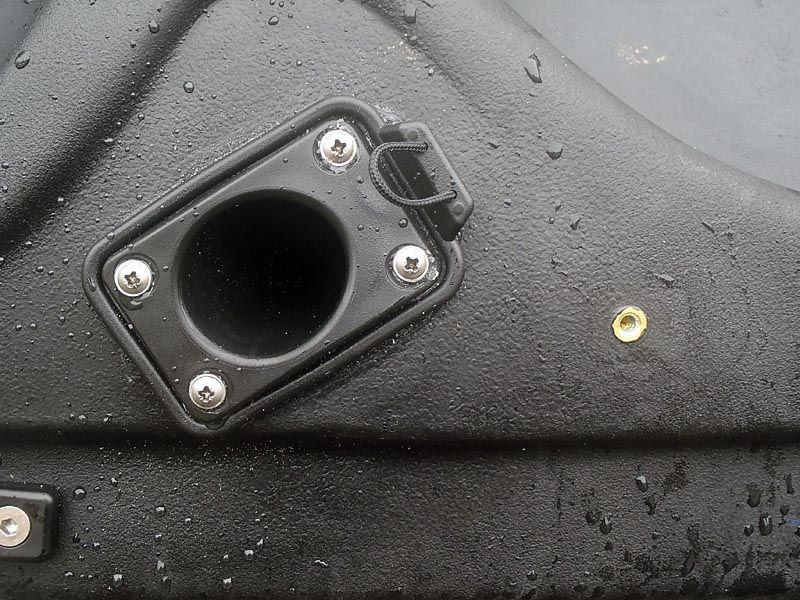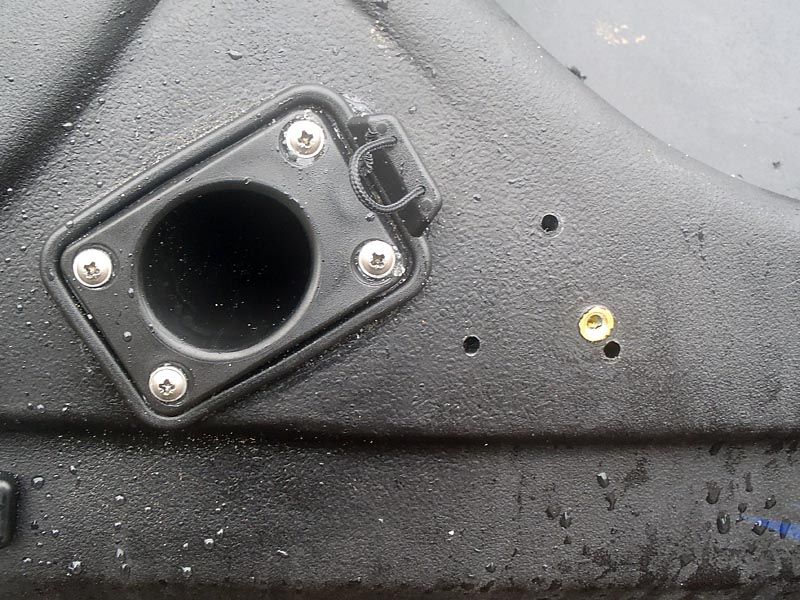 …and then on with the tubes themselves. I don't need them as long as they come nor do I need them flared at the ends so they've been cut down and have SOLAS reflective tape added for visibility.
Fishfinder/GPS/Chartplotter combo unit now. This for the offshore work, wrecking especially. My old Humminbird 7878c2i mounted between my feet, out of the roofbar's way, with rivets and sikaflex, a hole drilled to take the cables through plugged with a huge blob of sikaflex.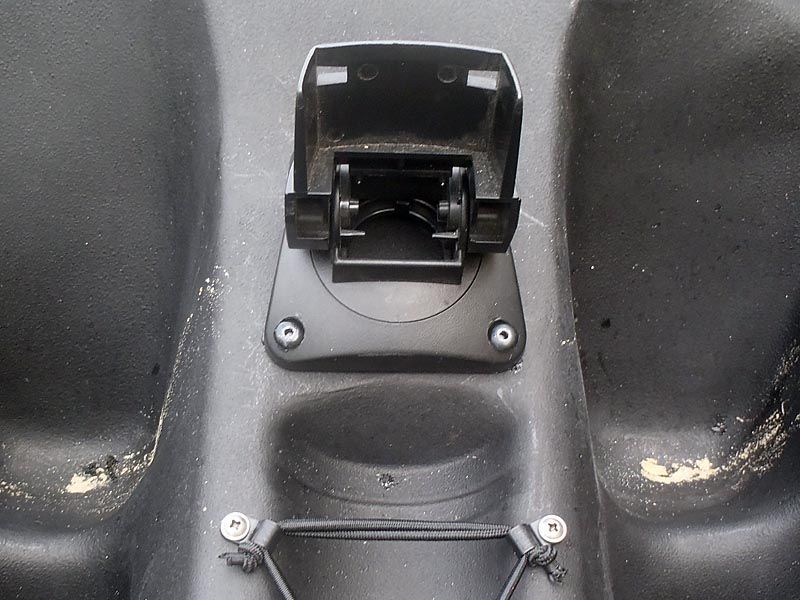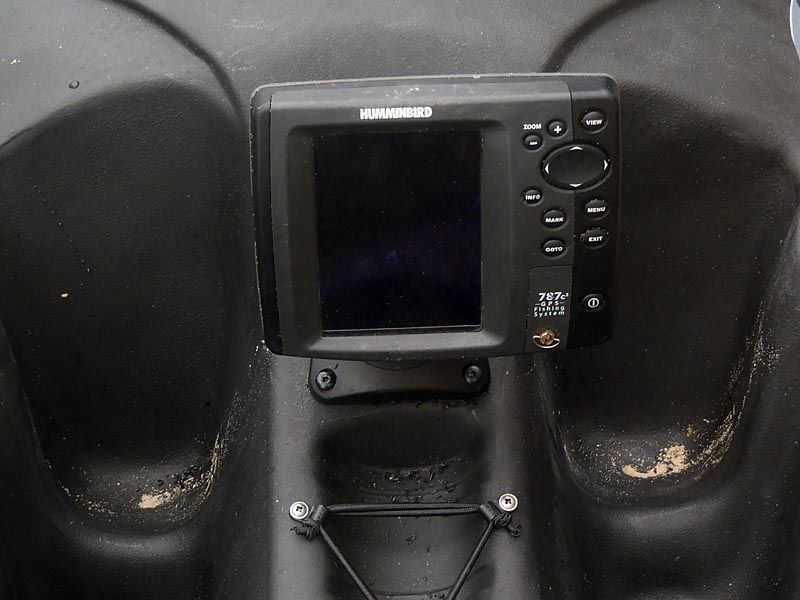 Another hole is drilled on the stern and my GPS antenna goes here. I wish I had internal GPS.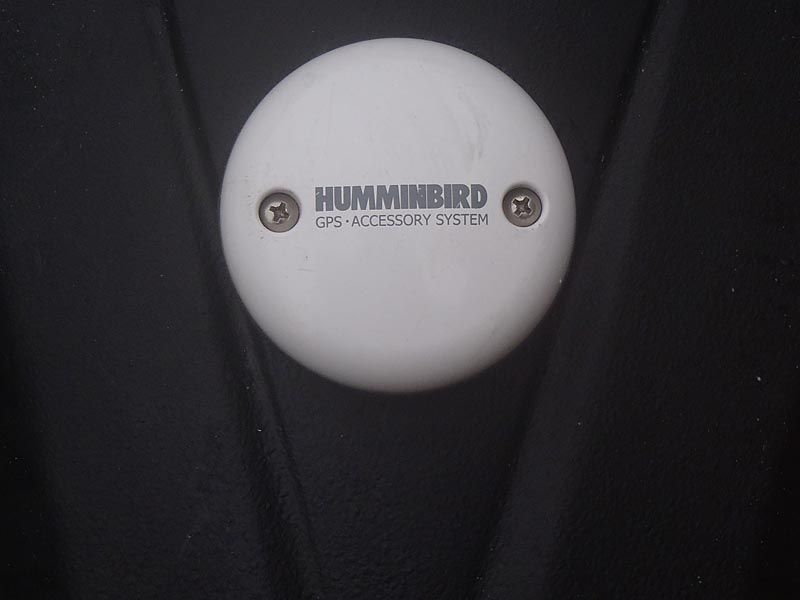 Finally, the cabvles are coiled and tie-wrapped and the transducer gets a huge blob of Sikaflex and is stuck down to the centreline of the hull, out of the way of pieces of trolley. This area is thoroughly wiped with methylated spirit then roughed with a metal scouring pad, dried then wiped clean before fitting. A huge dollop goes on, the transducer is pushed down and wiggled to get rid of excess and air and left for 24 hours to cure with a brick on top. It's a fisher now.
Just one last little addition, two P Clips to close the back of the tankwell net so fish don't escape, self tappers used to fit.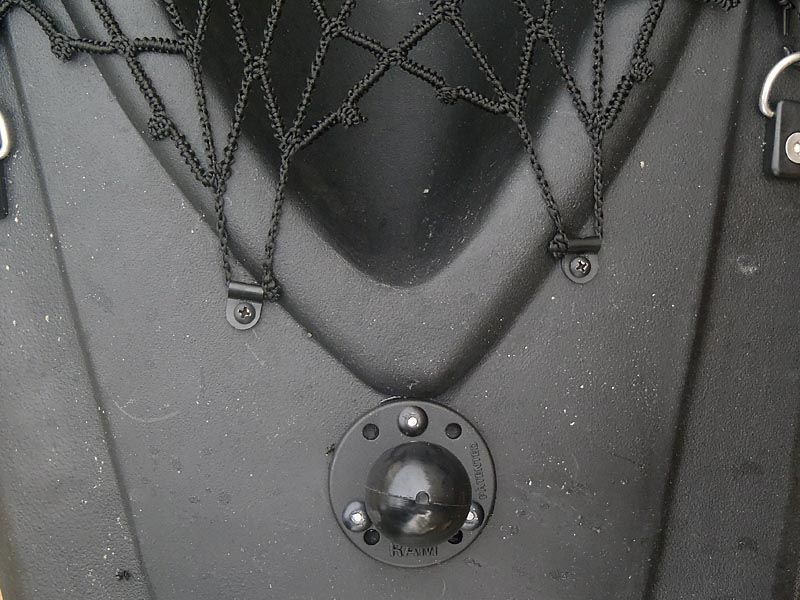 Oh yeah, another RAM ball. This is the rear mount for my RAM camera pole, three trifold rivets, sikaflex and then the pole attached. The same is fitted near the bow. I have a hemispherical choice of position from either end with these and I like doing my videos (more than watching them).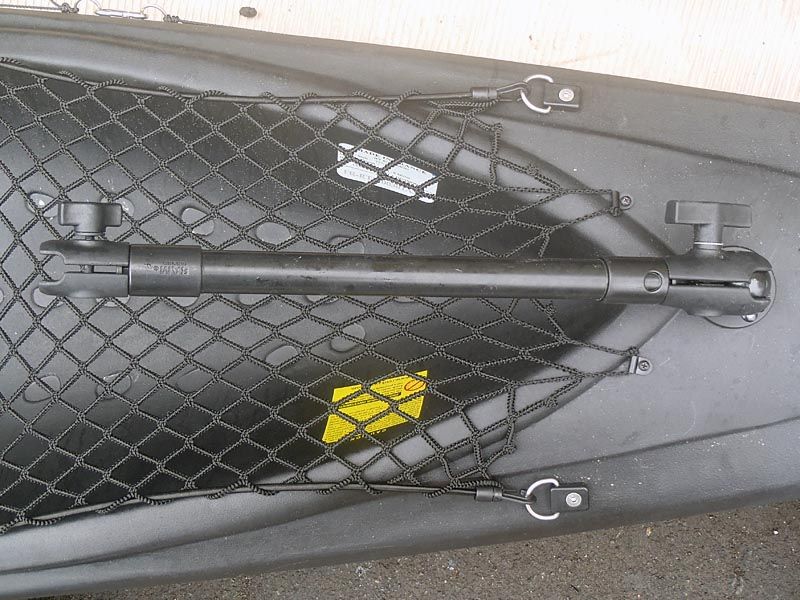 In the couple of hours I spent doing this, drinking coffee and sticking kitchen knives and tools to the wall old mate Amos arrived to collect his, and rig an anchor trolley, and Abigail returned from school and sat in the kayak to chat. So a happy photo to end that brings nothing to the technical side of things.
The compass fitting was straightforward. Why do I need a compass if I've got GPS? Because it's passive, always there, always on. GPS can fail, the battery can discharge or I may not even take it with. Like this I can come back in if the fog comes down with no concern and I've done so on more than a few occasions. Anyway, the base unscrews and there are four holes made for self-tapping screws with enough clearance above. I screwed this directly into the hatch cover where it's out of the way and easy to see even with the Humminbird fitted. It's also in a straight line of sight so no queasiness will occur while looking at it when paddling. Then, screwed back together and the job is done.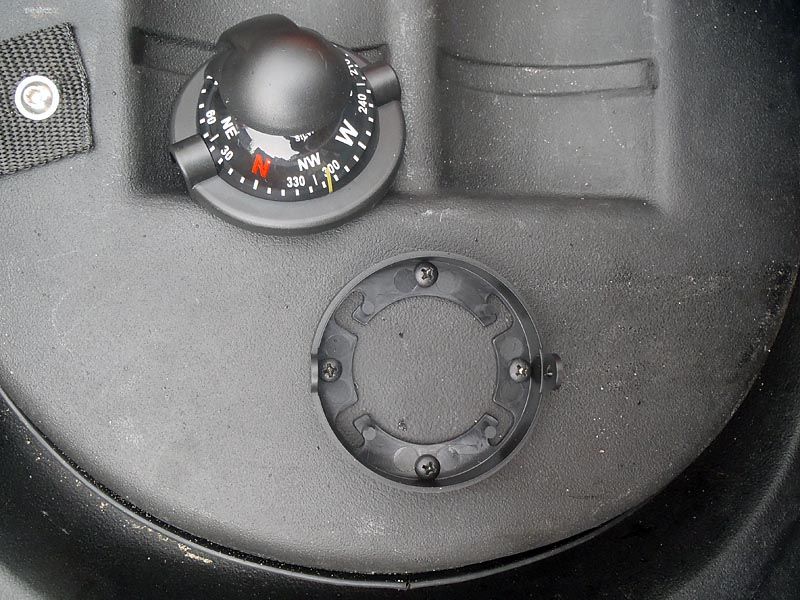 Now to fitting the sail; a strap eye attached to the angled part of the upper deck on either side for the webbing straps to run through. The foredeck is angled which suits the adjustable feet of the sail, the distance is far enough back to keep the bungee cord tight, attached to the D-Ring by the toggle handle on the bow and the lines running back are clipped onto other handy pre-fitted D-Rings.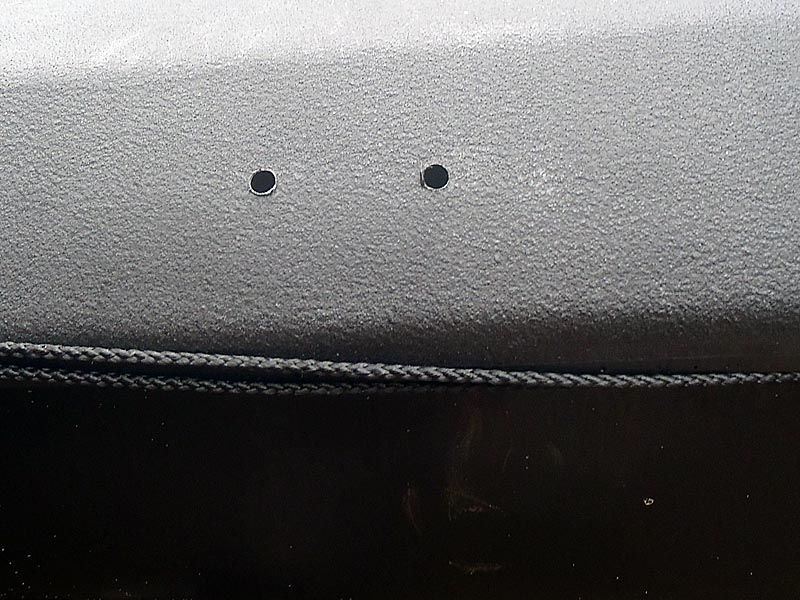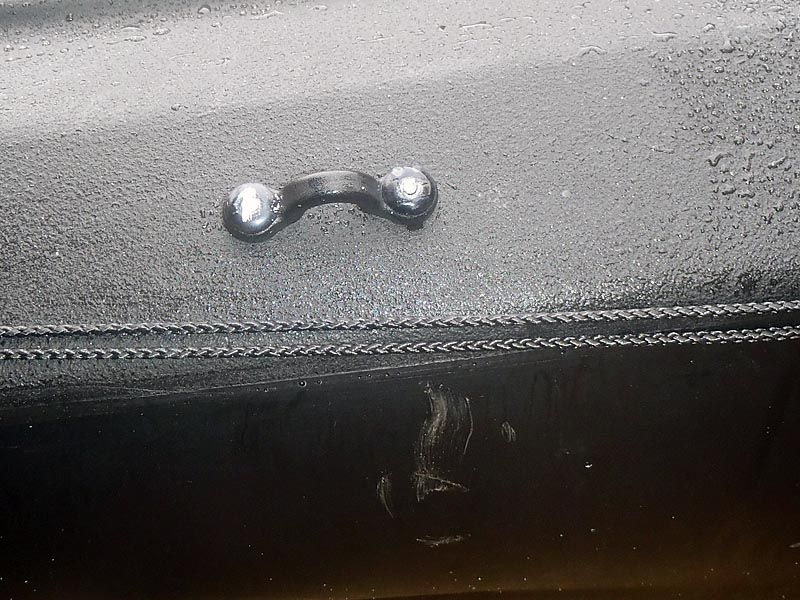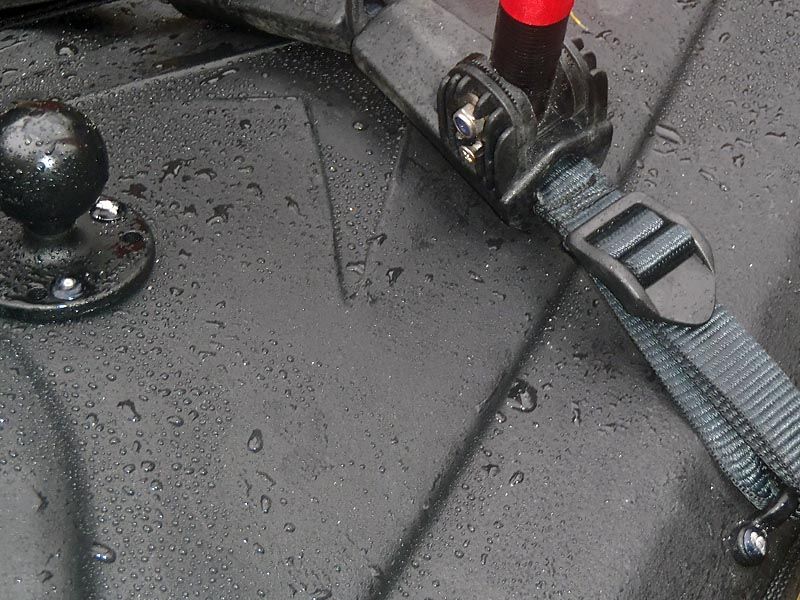 That's it. Job done.
First fishing trip; 3.75 miles out. Lumpy, strong tide, windy, 60ft and no problem. Chatted with mates Brian and Andrew before dropping anchor with Shaun.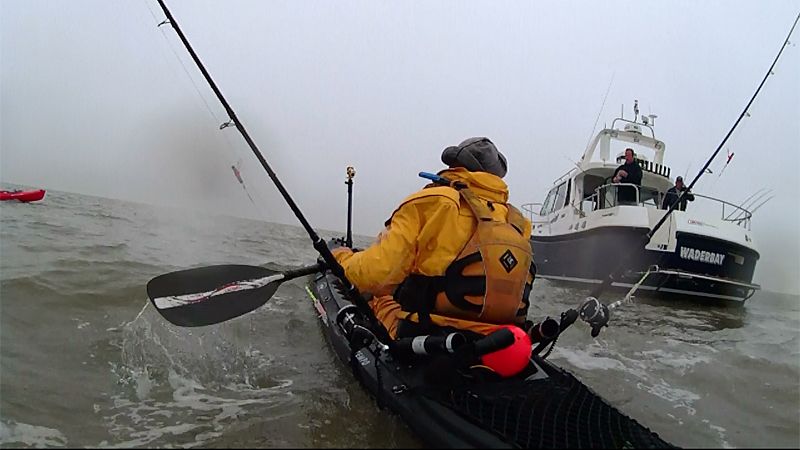 9.68 miles covered, across the (mid) tide all the way there and back and over sandbanks. 1h20 non-stop out and similar on the way back.
An Update on a FISHING kayak after the first couple of weeks and pictures tell a thousand words…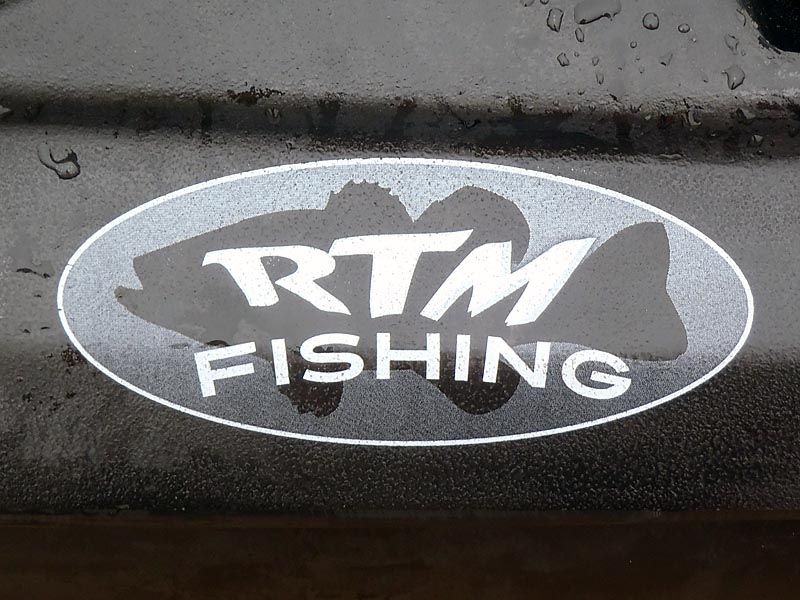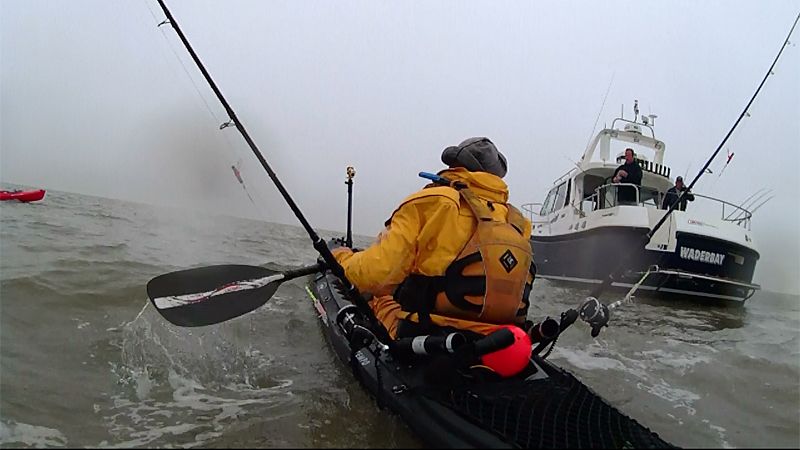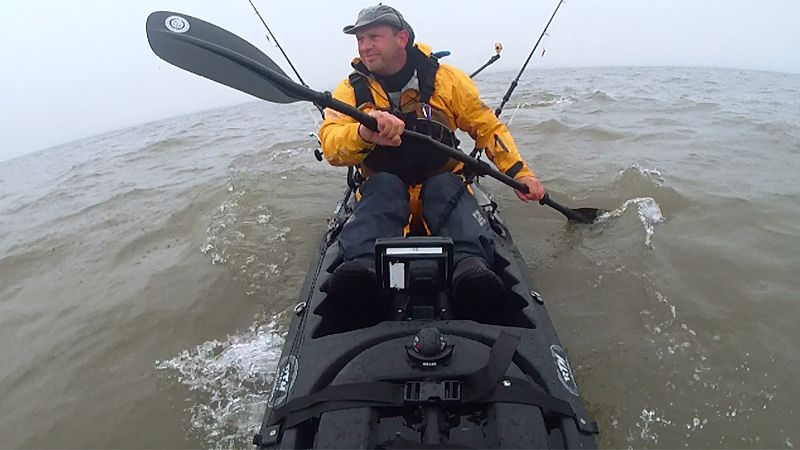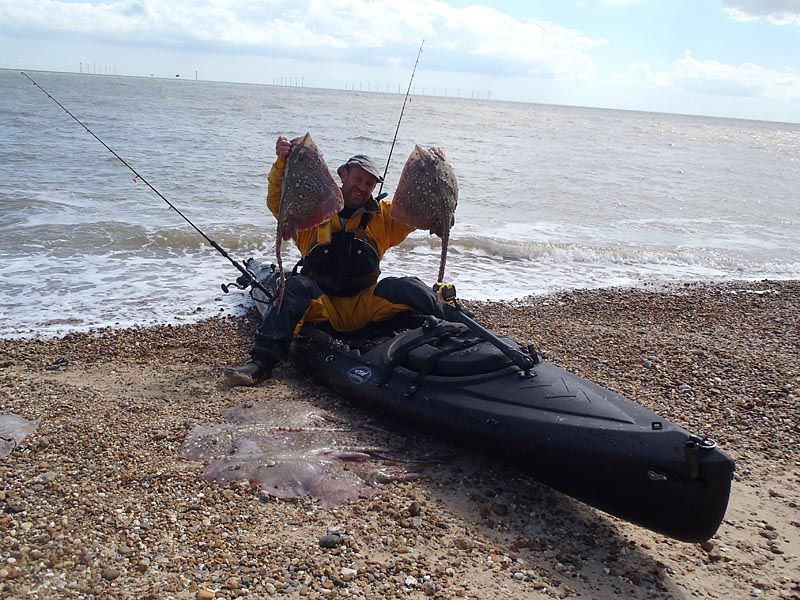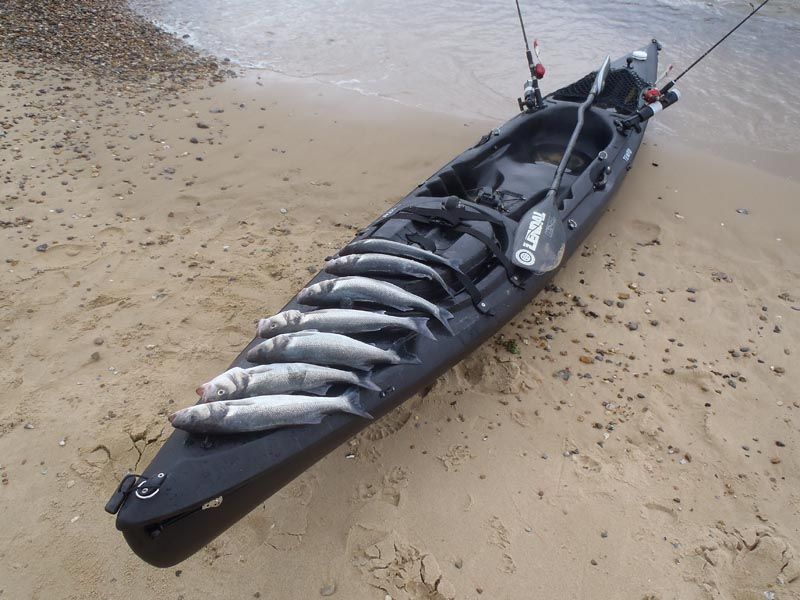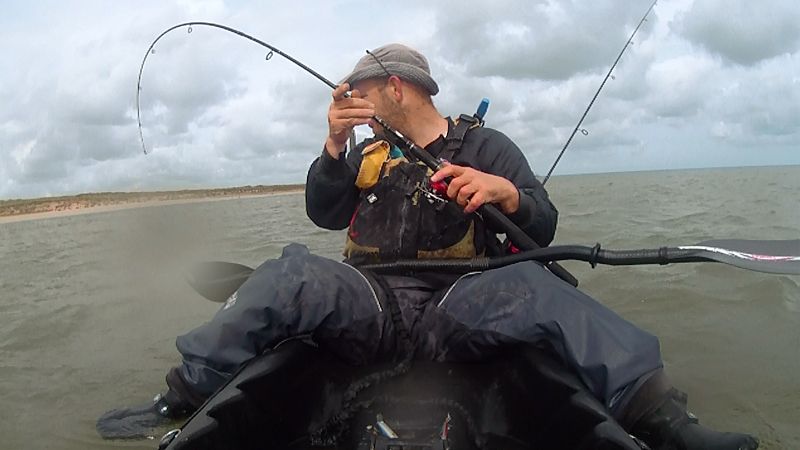 r="0" alt="Photobucket">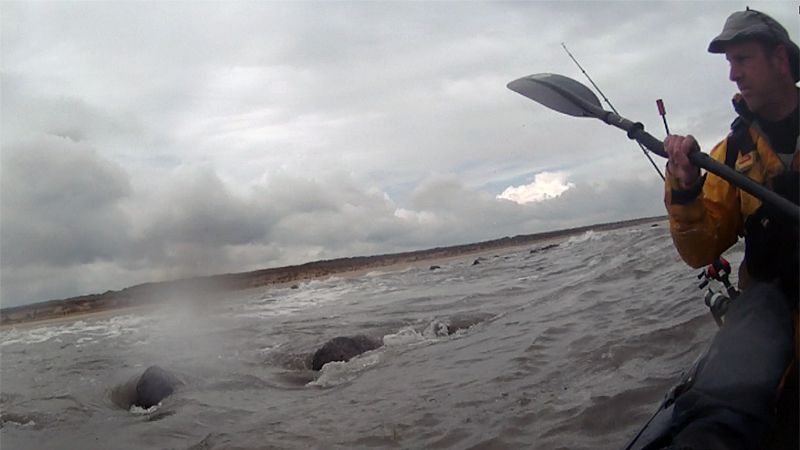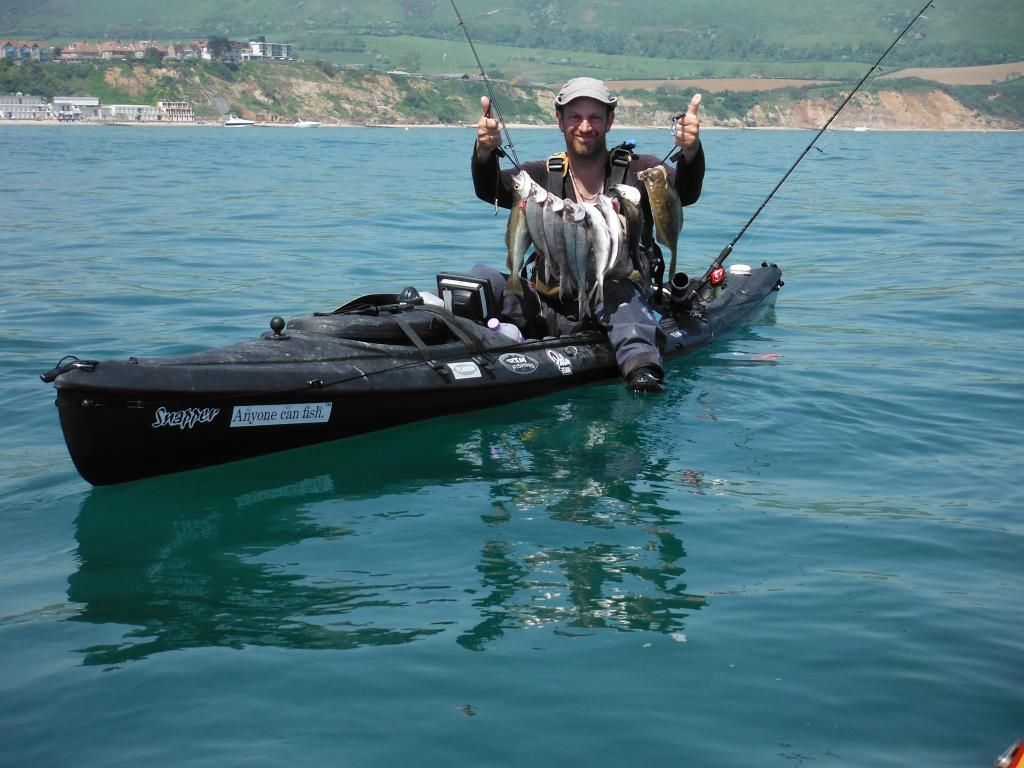 There does seem to be some concern over the amount of competition…either that or I'm going to have a pregnant kayak very soon…