Another window appeared to be opening so James and I decided to make the second assault of the week on Corton for the cod that are currently about. With enough west in the wind to flatten the swell down a bit and a low tide time of 14:50 things looked fine, sea-wise and the sun was out. Plans were made for an earlier than normal launch, 11am rather than 1pm which would normally be sensible because of the strong flow but as the cod had fed hard mid-tide a few days before it was worth a shot.

---
Mice and men time of course came into play and I got called at the last minute to do a night shift with fifteen minutes notice so I had to sleep before heading for the beach and getting out of bed was very, very hard… James was just about ready when I arrived and was going to try my Scupper as he had managed to persuade me to part with the brand new, still-wrapped yellow one stored in my brother's barn. I took some persuading but at least it meant 'd not need to wait all summer for him to catch up! Besides, I've switched over to the MidWay and my soon-to-arrive Tempo now so it wouldn't be used and though I'd planned to turn it into a fully-rigged and ruddered yak if I did sell it it would at least go to a good home. But for now he was on my old faithful to see how he got on…though I'd forgotten the rod holders. I popped the black fishing pod, minus the rod holder onto my MidWay though, just to try it.
Down we went and the sea was mostly ours. Cleveland Princess were half a mile to the north so I gave Brian a shout to see how things were. They'd not long arrived and only had a few whiting onboard for now but at least things were happening. We launched and went slightly further out but stayed to the south to see what we could find.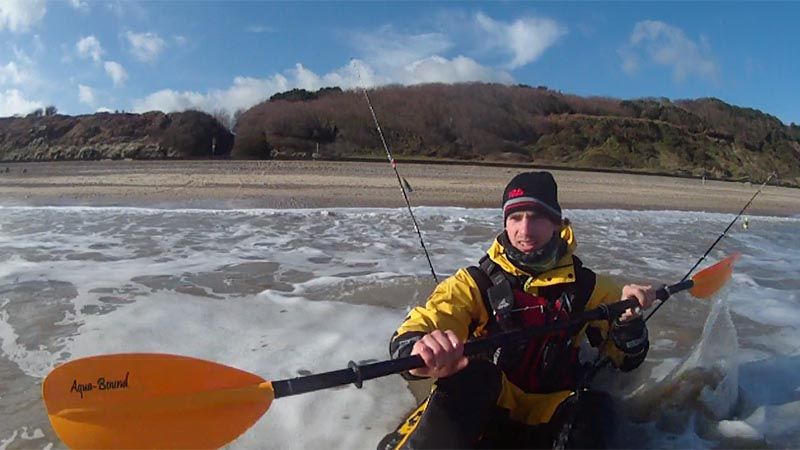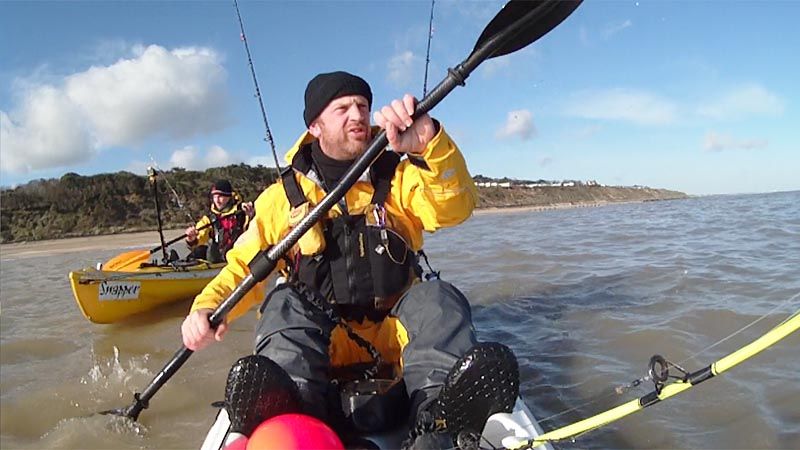 I dropped anchor, the tide was screaming. We were on a rough patch but possibly hit the channel hence the stronger than expected flow. Whatever, it wasn't funny and I now had to face a couple of hours of this. Lots of line and my heaviest leads required then…frozen blacks tipped with squid and down went two of the rods, the Maxximus spinning reels being used again, once more out of their design window. Got to give things a proper workout after all!
I sat and waited. James landed a cod.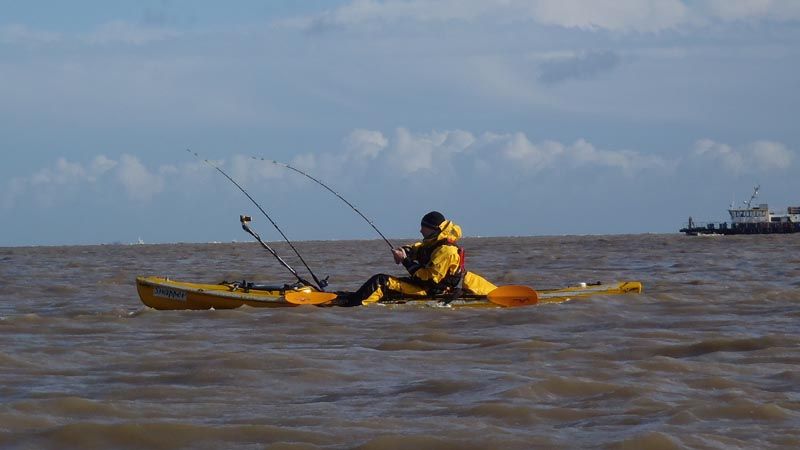 James landed two cod.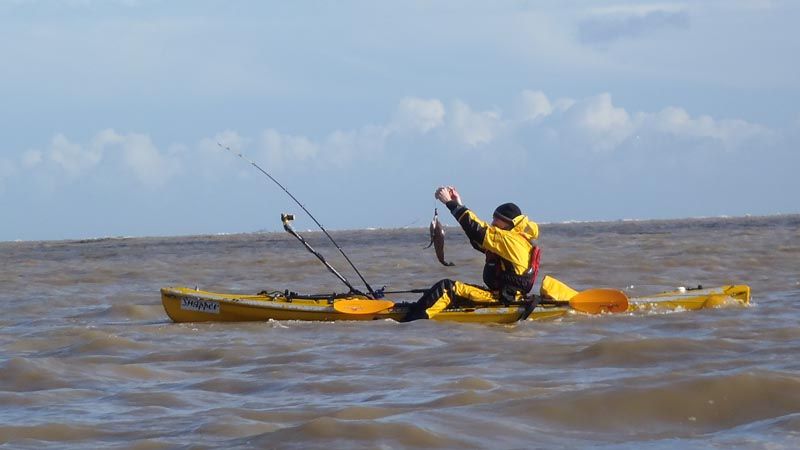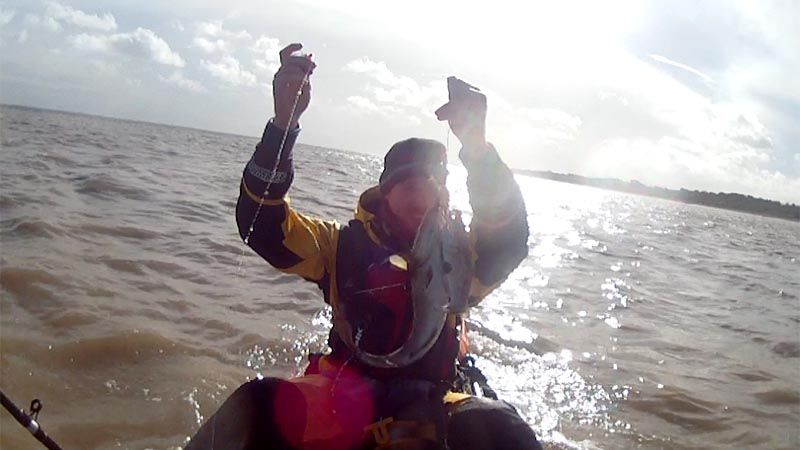 James landed a pouting – his first for years.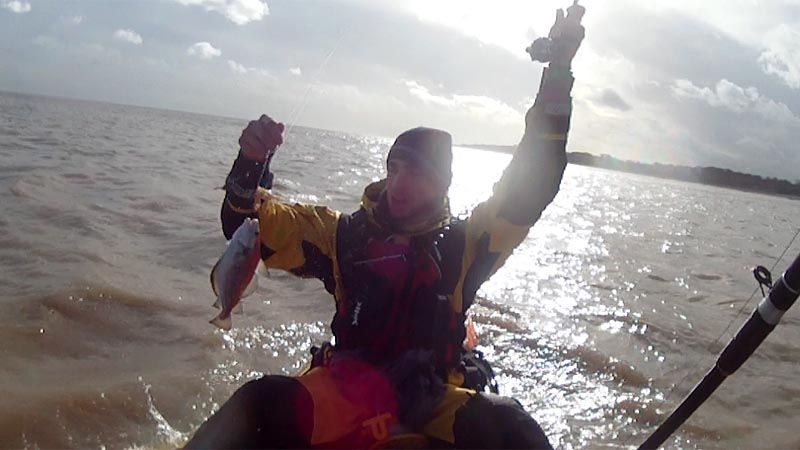 James landed a cod.
I didn't have a touch. Two of his were keepers and two were babies. I called up Brian; they were on four already. I was getting bored. I changed baits. Then I decided to lengthen my snoods, perhaps that was the answer; I added 18 inches to each.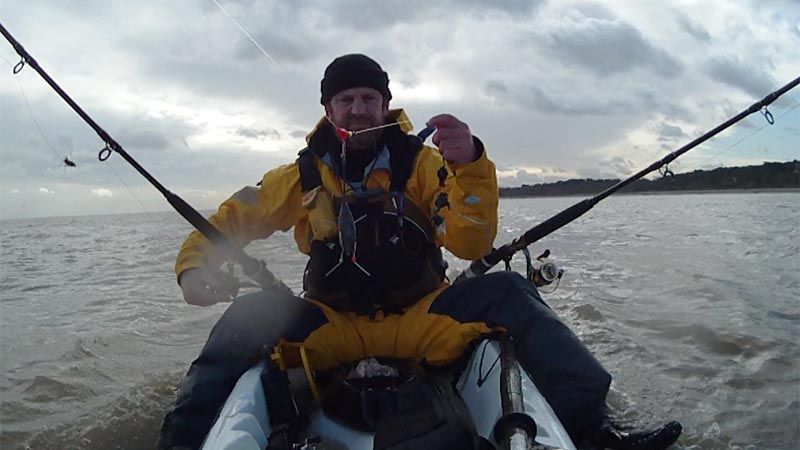 Then I broke out the first of three snags – lost the trace but kept the lead on the first, lost the lot the next couple of times and the same happened to James once or twice – dunno what happened but at one point we both had to break off within a couple of minutes of each other as if something was moving downtide. I sat there and tried to amuse myself, consoling myself with thoughts of the pleasant weather and pretending I was a ninja. It doesn't really matter to not catch when I can sit without a care on the water with the sun shining. Except when someone else is of course. We decided I was in 'Shaun's Spot', harking back to Monday and his bad luck. I would have moved but not with this flow.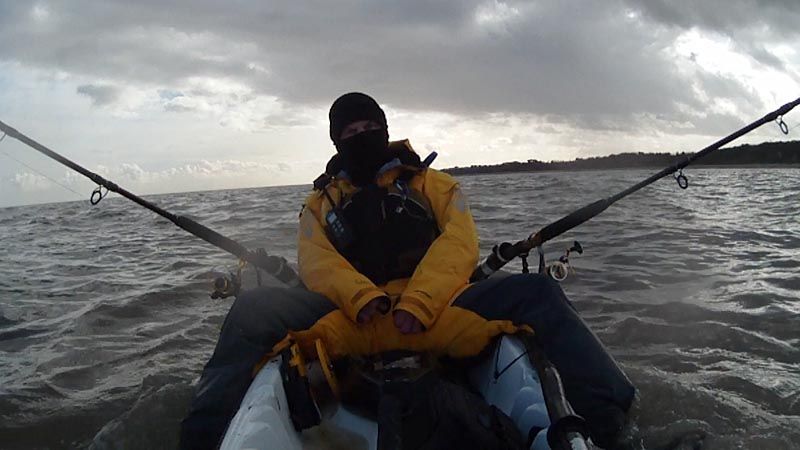 After a couple of hours and a bit my onboard video ran out of memory finally, coinciding with the tide staring to ease. Moments before I finally had my first bite which I duly missed but at least it was some action! The sky is looking grim though, we get a burst of strong wind and the edge of a squall moves through.
We're lucky, it misses us and we don't get the downpour. I pull up my hood though.
Ten minutes later and I had another bite...I struck and felt the weight and saw the bend and the nods were transmitted up the braid and through the reel and I dragged an open-mouthed cod through the finally easing tide up to the boat…45cm and 2lb. Perfect fillet size and a beautifully conditioned, plump codling.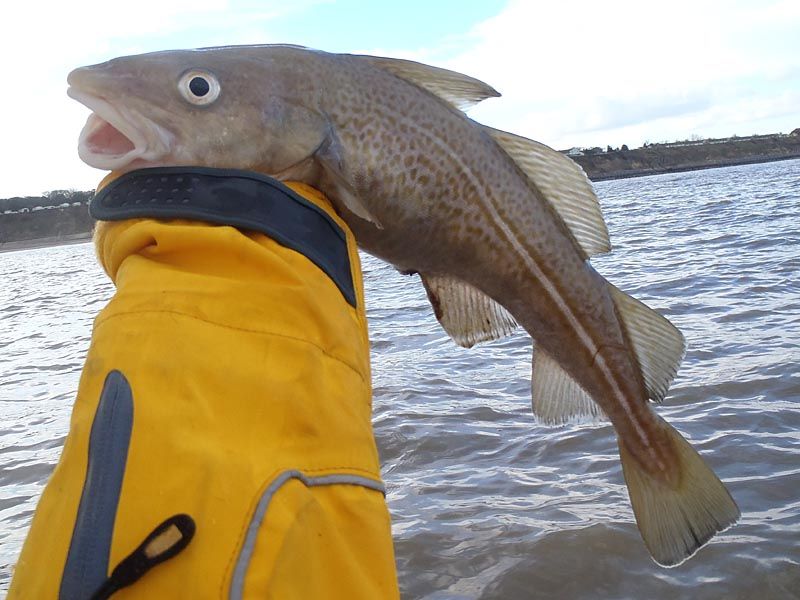 Five minutes and the other rod bangs; this one feels a really good fish! Up it comes, slowly, fighting all the way. Post-spawning they're feeding hard and have bags of energy, plumping up too after all those sprats of the last few weeks…It feels good, looks good too as it breaks the surface! 55cm and weighed that evening in the kitchen it went 3lb8oz, Lovely fish!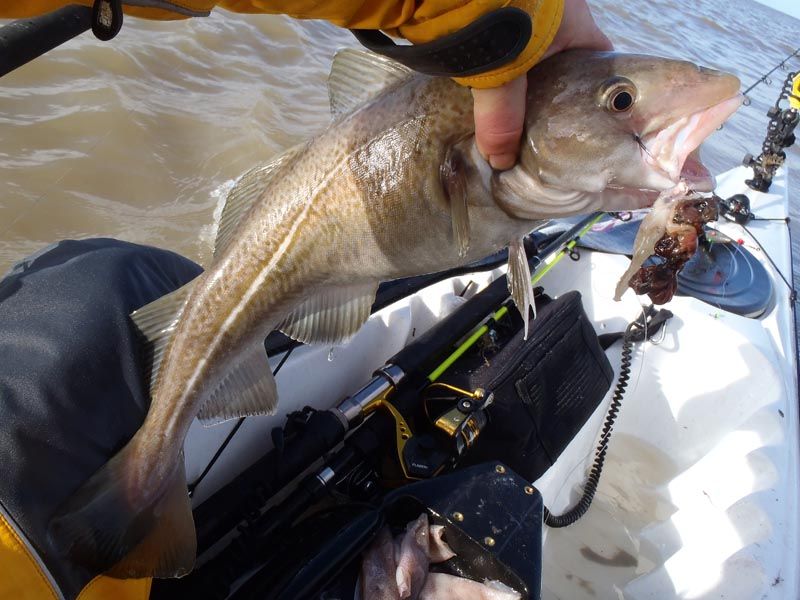 A few missed bites follow every few minutes and then it stops. James has one cod in this time but it's gone pretty quiet for him. It's a similar pattern to the other day where there's a flurry in one place and nothing in the other only fifty yards in or out, as though they're using a track and moving down in packs; Brian reported flurries too (they had seven keepers and five smaller, but sizeable, returns). It's an interesting pattern. We come up to low water, and I decide I have to call it a day shortly as we have stuff on this evening…I yell over to James that I'll give it ten more minutes and pull up at three…as I turn back and while he's still looking my rod pulls right over and bucks furiously – this is no snatch-and-drop bite this time; I hit it and feel the head-shaking…up it comes, 50cm and 2lb9oz back home. Lovely stuff and a great ending both with a fish and a drawer. We pull up and head in soon after; good things come to those who wait!
Shaun meets us on the beach and with his new camera having arrived, a respectable catch and nice light we pose for some glory shots. Might as well, after all we still look clean and shiny! Roll on the next window!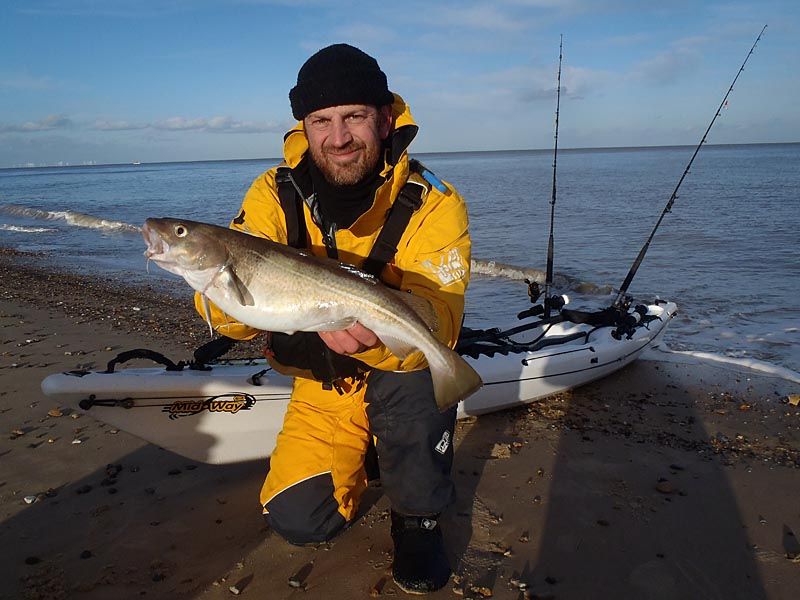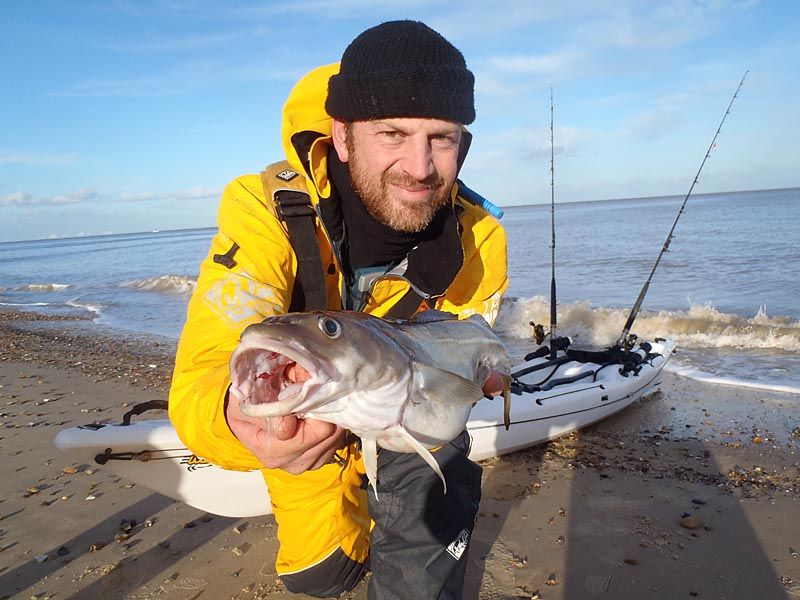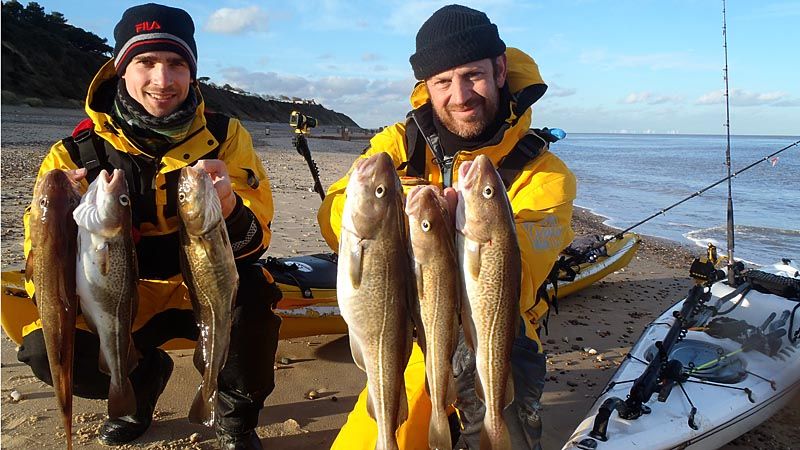 Glad I got the bigger fish though because James beats me on looks.