James was free today, Shaun was too and of course yours truly had nothing more pressing to be getting on with…from a certain point of view! The forecast wasn't good though, touch and go really, a fifty-fifty chance depending on the wind. It was okay early on but would be building during the day and we'd not be able to launch until after the tide started to pick up.

---
At south southwest we should be okay with the cliffs sheltering us enough and the forecast was for the sell to be minimal; a prediction of flat. We agreed on a time to launch if it looked okay – and at 09:30 it did. I made the call and we agreed to meet at eleven to launch and fish the two to three hours before slack, a short session because of the big tide running. I went to the freezer and grabbed some squid and frozen black Lancashire lugworm.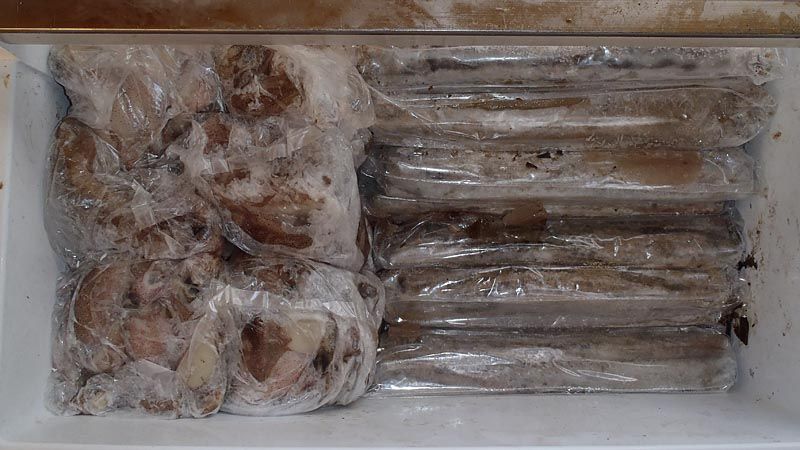 I rigged everything at home to save wasting time and arrived a bit early. James was already onsite and dressed and by the time I was ready to go Shaun had arrived. The wind was building though and had appeared to have swung around a bit more easterly. That was a pity, it'd give us some chop to contend with but we'd been fine the day before in similar conditions albeit it inside the reefs. Still, needs must! Brian had been out on Sunday with a party of four on Cleveland Princess and the cod, feeding in mid-water for the last few months on sprat and herring had finally dropped down to the bottom and been taking baits again; they'd landed 32 2-4lb codling and he'd lost ten on the surface that spat the baits on his own rods, not to mention those that had dropped off for the charters who often had two rods bringing fish in at a time. Clearly it was time to fish again and we were keen! It looked okay really, a few white tops here and there but the swell didn't look all that bad and we launched, punching the tide and paddling slightly north towards where Brian was out on a jolly aboard Iceni Spirit. We stopped short and dropped anchor letting out plenty of warp to hold us in place. That's when the sea state became more noticeable.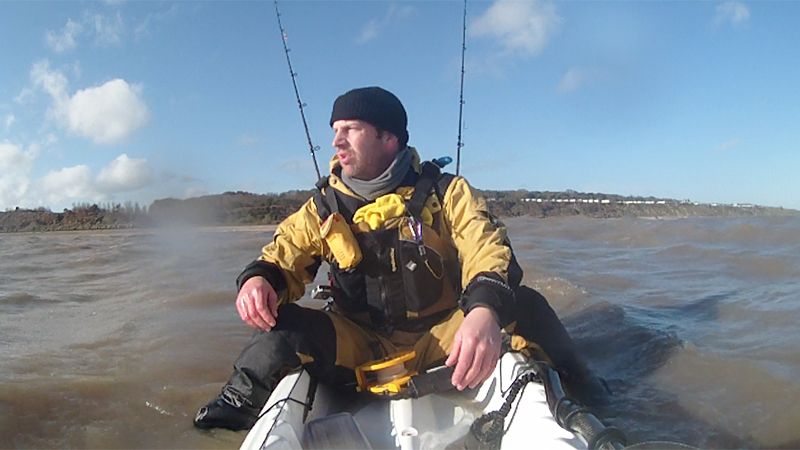 It's the first time I've anchored the MidWay in a strong flow and a big sea so I was interested to see how it handled things. To say I was being rocked around a bit would be fair and though I wobbled it got nowhere near to being unstable. It sat straighter than the Scupper but that wind! Those waves! Most were around 3ft but the odd 5-6ft wave was coming through and burying the bow in between spinning me around and they were coming from a lot of different angles. The bigger ones would pull the warp tight and I'd feel my stern being pulled back and downwards which is always unnerving but there's plenty of buoyancy back there so I was unconcerned.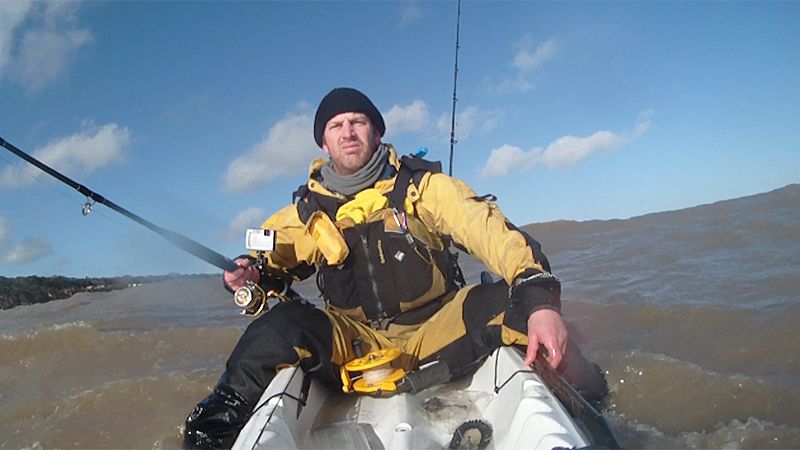 I wasn't really happy with conditions but perhaps it'd stabilise once the rods were out. After yesterday I decided to fish both my spinning reels, the 11+1 on one rod and a Maxximus KM on the other, the first use of this reel. That was the one I put out, on a 12lb class Maxximus IM7 rod with a 4/0 pennel rig on a zip slider and an 8oz breakaway lead. A defrosted black lugworm was threaded up the line between the two hooks and a squid head was placed on each, hooked through the eyes. I cast out and, deciding against fishing a second rod, clung on for dear life!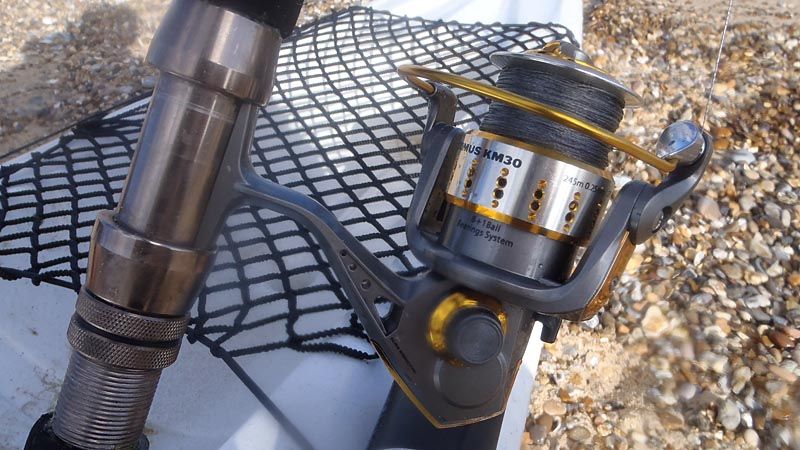 James was fine, happy enough and riding things out okay on his 4.1. Shaun seemed to have an issue though and appeared to be drifting; I saw him paddling back towards us and decided that this wasn't going to be a good day to stay out here; it may get worse and it was bad enough already. We were right on the limit as it was and cod or no cod we had to go in. I made the call to James and once Shaun got close enough I let him know too; he had to land anyway, his anchor warp had snapped. He'd be of use though, pulling alongside to help stabilise the spin as the anchor was switched from stern to bow. I suppose he was fifty yards away when I saw the bite…my single bait had been down for the grand total of six and a half minutes!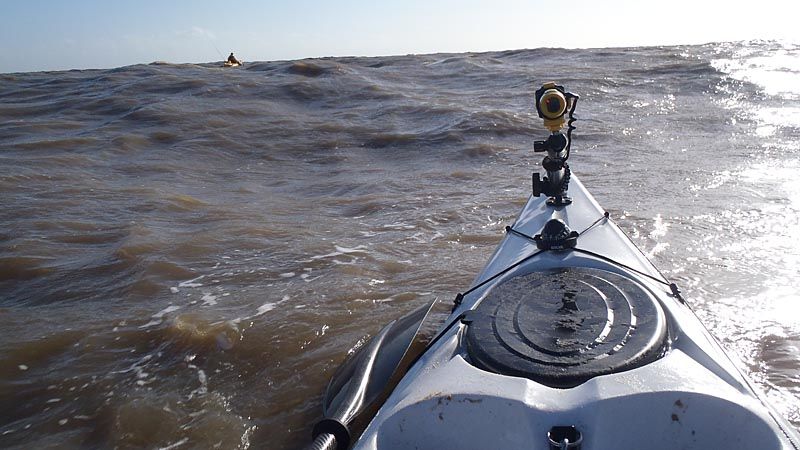 I struck, started to wind and felt the fish on the end, banging its head in an attempt to shake the hook. Yes! Cod! It felt a good one too. Now, I'm used to fishing multipliers which don't transmit as much feeling as fixed spools so I was quite surprised by the weight on the end. Yes, the tide as running hard and the sea was lumpy but this felt like a really good fish and I was loving it! Up it came, me reeling steadily, pausing to allow the sea to do its thing without unduly straining the fish and then it broke surface. I wasn't overly confident that I'd land it easily but seeing the single hook holding in the lip and watching the fish start to spin on the surface I had to hurry. It wasn't as big as I'd thought but at a fat 3lb and 48cm long it was a decent keeper…I grabbed the hook length and pulled it aboard. I unhooked it and placed it under the cargo net in the tankwell, the photo could wait until I landed.
Shaun came alongside and holding onto him I shifted the trolley then started to pull in while he went to see if James needed a hand. I had my feet over the side and my back to the swells and there was no way I was going to use the handle, instead just pulling the line straight into the seat well. The buoy and 1kg Bruce came up and was flung into the footwells and with everything stowed I started to head in, the other two doing the same.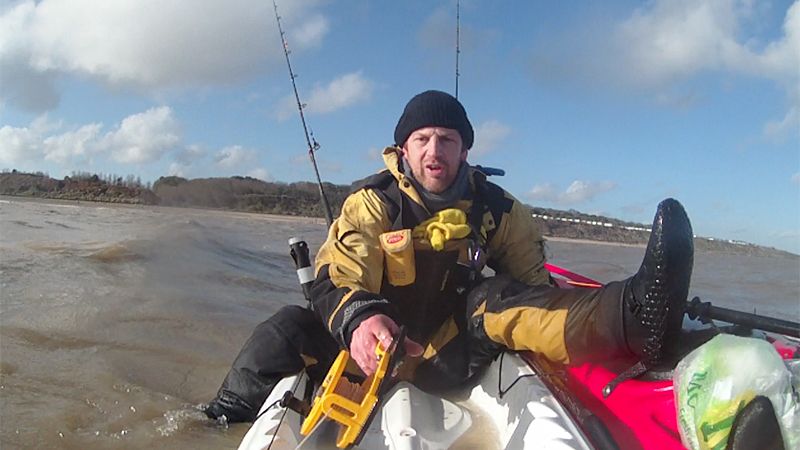 It was a rough ride but conscious of the fish under the net I waited for a flat bit before paddling in and shooting straight up the beach after Shaun. James followed, jumping out but getting tripped by his paddle leash and the kayak rolled over. Off went the best part of a fiver's worth of fresh lug and Shaun's favourite and best lucky knife that he's had for such a long time…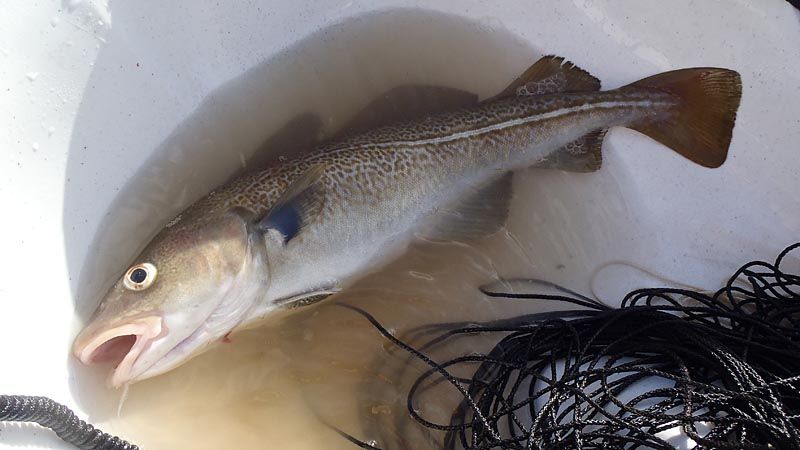 Comments, once we were back ashore and I started to bleed my fish included "How the hell did you spawn that out in that time?" and "That's the first time I've seen you looking uneasy". Both kind of sum things up well! It was horrible! Still, there's other fun to be had and we unloaded all the gear and started to play in the shore dump, paddling out and riding waves in, getting dumped, getting rolled, getting smashed and bruised and battered and wet…we had a marvellous couple of hours in fact, like kids splashing in puddles. With two of us still getting used to new boats and one trying them out for the first time it was very worthwhile. I did some rough water capsize self-rescues too which needed to be done and they were no trouble at all, back in within seconds.
Brian reported a dozen cod but after two hours they were heading in and it really did look rough by the amount of spray being thrown up as they went down waves and back up!
Oh well, we carried on playing and videoing each other; here's a selection of screen captures before I start on the video. We had a blast! I went straight through a few decent waves, piercing them with the bow and taking them full in the chest but at least stayed upright which was more than could be said for my attempts at carving shore dumps! Bottoming out on the inside gunwhale while the waves rolled me was all part of the fun though being slid up the shingle with a kayak on top of me was less so!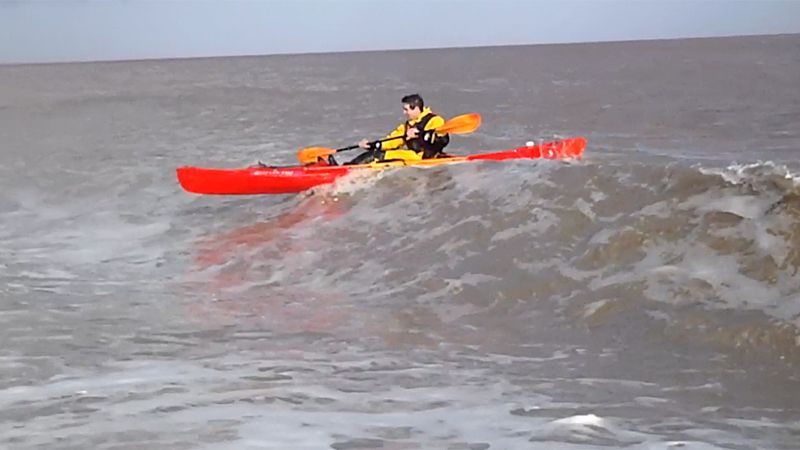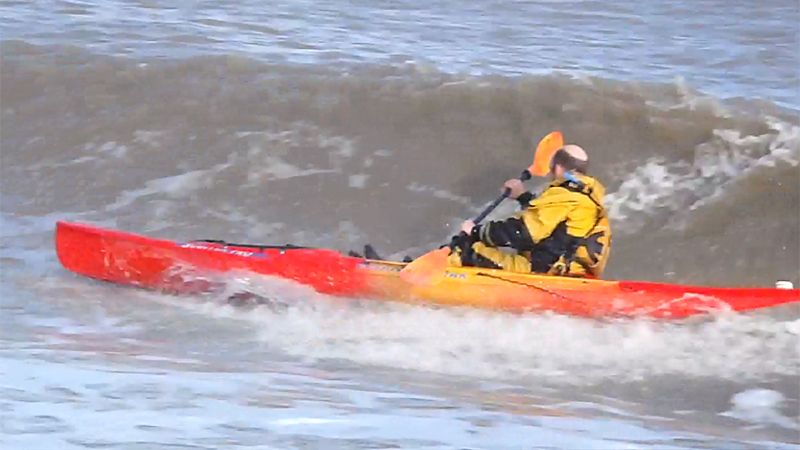 A bit of carnage to finish off…