I woke up to rain and a text. The text was from Paul and was about the rain. Paul doesn't like to fish in rain and nor do I. The problem is Mark was free today only and knows where all the big pike are. A quick call to him and he told me it was raining so I went back to bed. But Mark was free for today only and a check of the forecast pointed to it not raining so a bit of bullying later I picked Paul up; I wanted to christen the MidWay with a pike and a good one at that…

---
It rained all the way up to Wroxham but stopped a couple of miles short. So we pulled up and unloaded, got the kayaks ready to paddle, got the rods and tackle set up and clambered into drysuits. Meanwhile I turned my back on Mark who'd initially laughed at and then stolen one of my Warbirds. The next time I turned around he had tried to steal my kayak. These Norfolk folk are a strange bunch.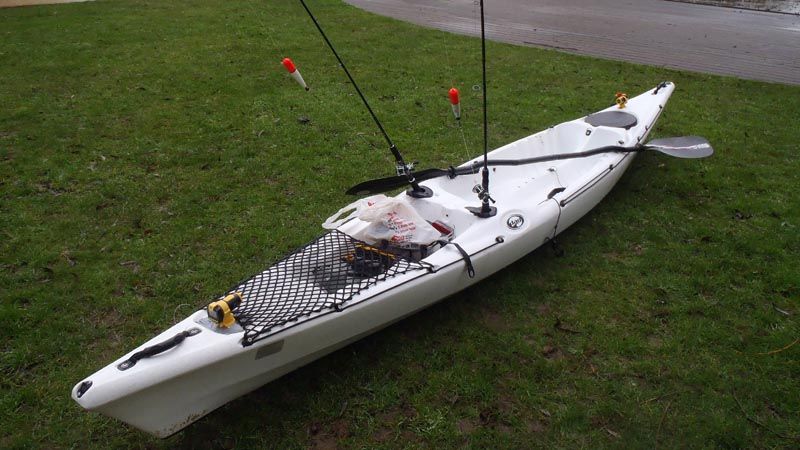 I say drysuits but I don't really mean mine which was still damp from my previous testing of my new kayak…so I was destined for a damp day whatever. No matter, we launched.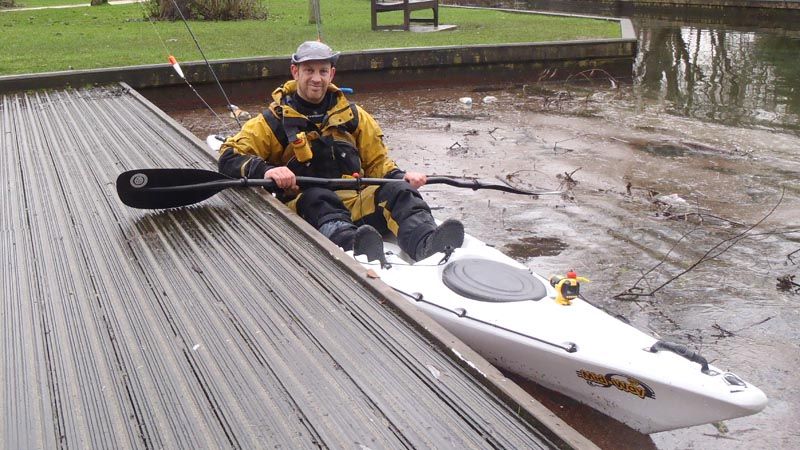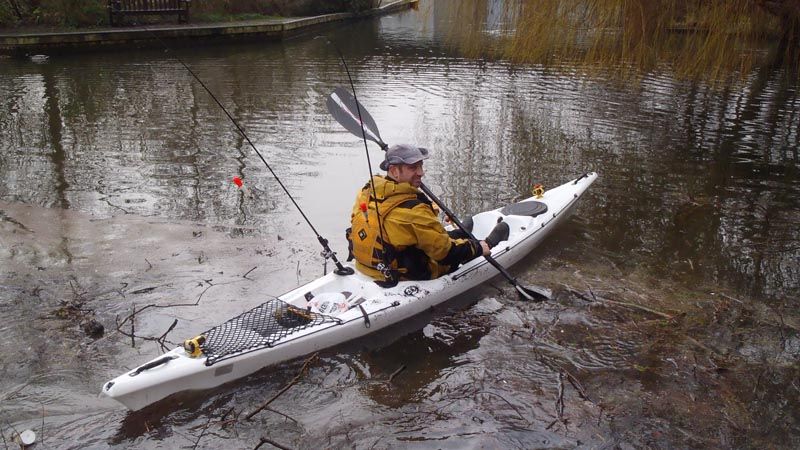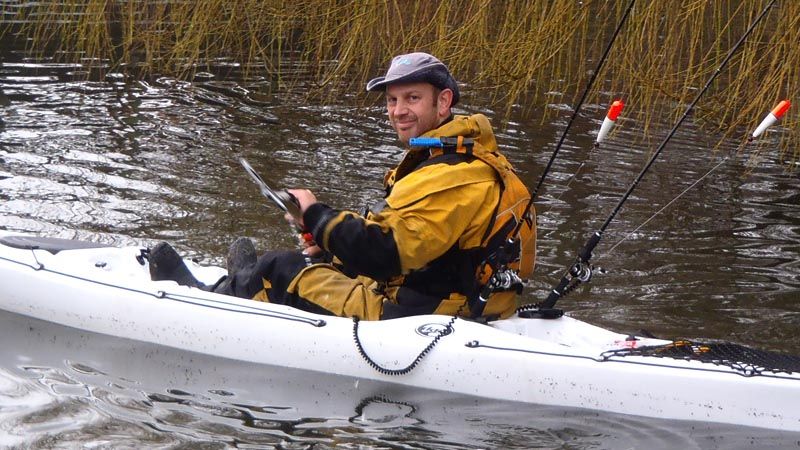 We headed upriver a little way and with floating deadbait traces on my Xtraflexx 10-30g rods and my Warbird 220's attached I attached a smelt and a herring and lobbed the baits out midriver while Paul pranced about scaring the fish off and Mark did the same as I.
We waited…and waited. It took over half an hour before my enthusiasm was as damp as the day and so I headed across the river to try fishing the bend, attracting the first amorous swans of the day, one of which came to kiss the back of my kayak before heading off.
Which was what I did after another fruitless half an hour. Mark also moved and we tried another favoured spot, waiting for another half an hour before I decided I was going on the troll with Paul. Out went a lucky banker Eco Narrow and a Jointed Minnow 13.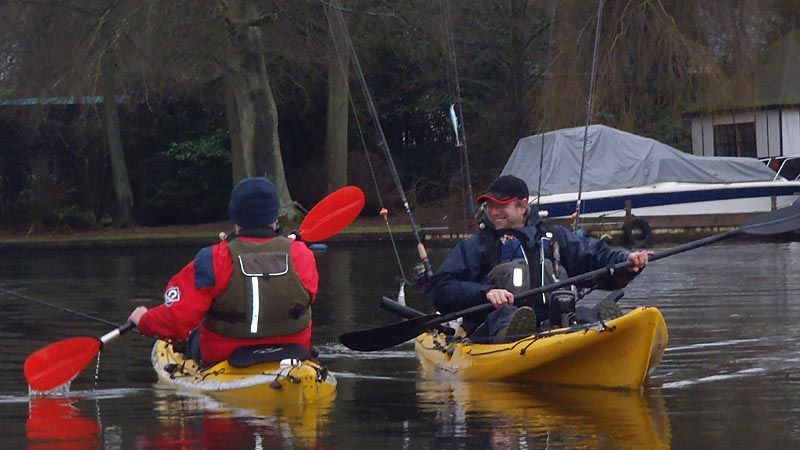 Paddling was a breeze, I had to hold the kayak in check as it just wanted to accelerate all the way through the built up stretch of bank and on to the wilder, tree-lined banks. I didn't have so much as a pluck at the lures; no weed but no pike either. This was not going as I'd hoped.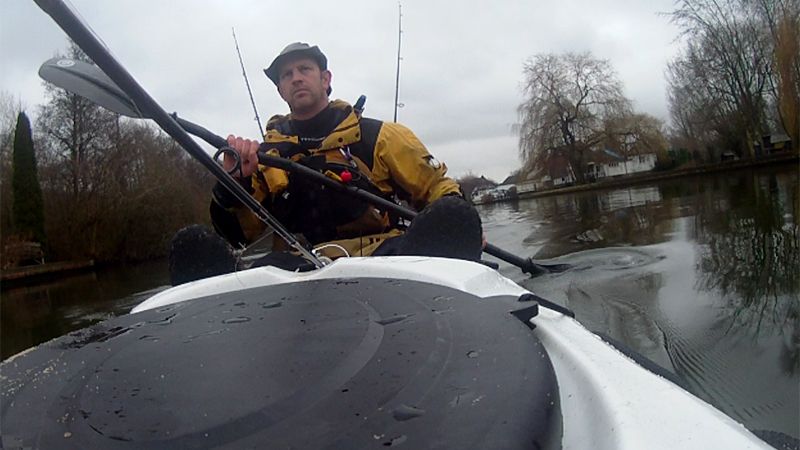 I decided I'd been far enough and ought to go back to the baits so turned and trolled back to find Mark. Paul lingered in the background as I started to feel amazed at how far we'd come in the short time we'd paddled – I'd got myself a mover here for sure! Back into the town stretch and I heard a shout from behind; Paul had a fish. I turned, snagged my lures and went to get some photos. Not a large fish but he'd christened my new reel, a Maxximus 11+1. Loaded with braid he loved it and had felt everything the jack had given.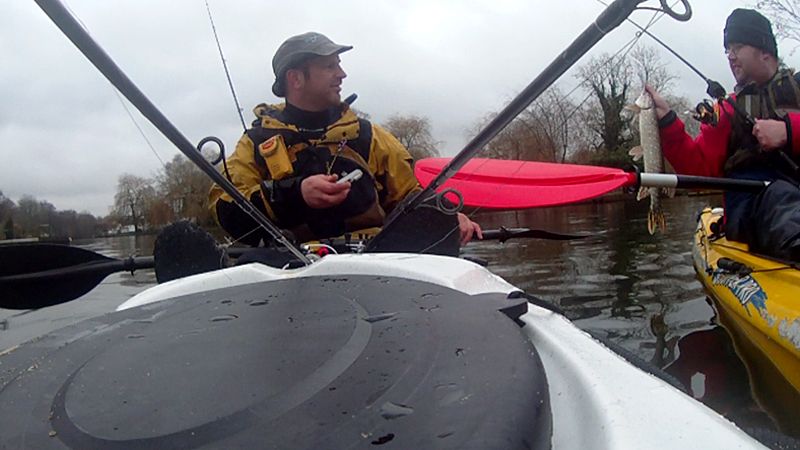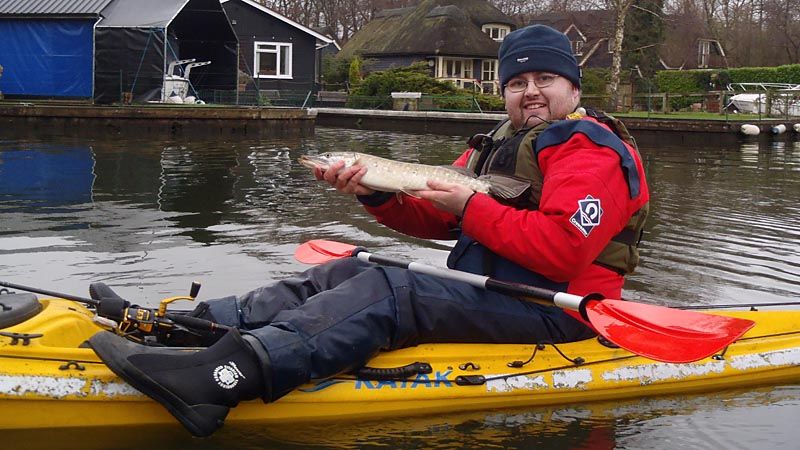 We continued through the town and returned to the launch point with Mark nowhere to be seen. I decided I may have more luck with a livebait and, with my IM10 2-16g and a waggler I started chucking out single maggots and pulling in roach, my first fish on the MidWay…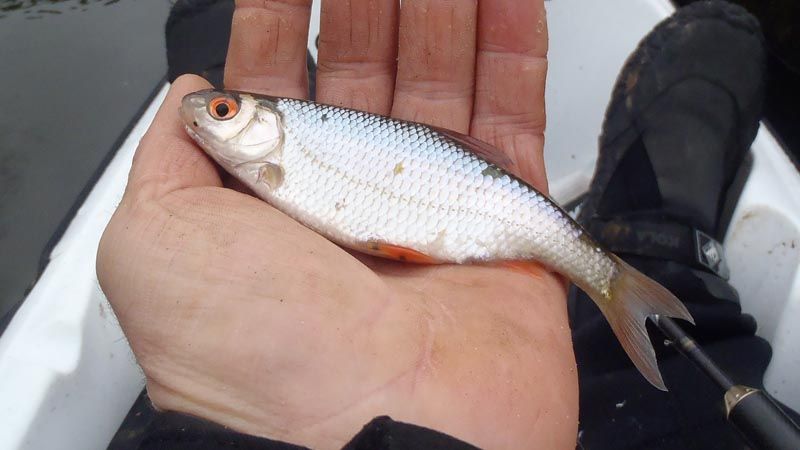 And a perch…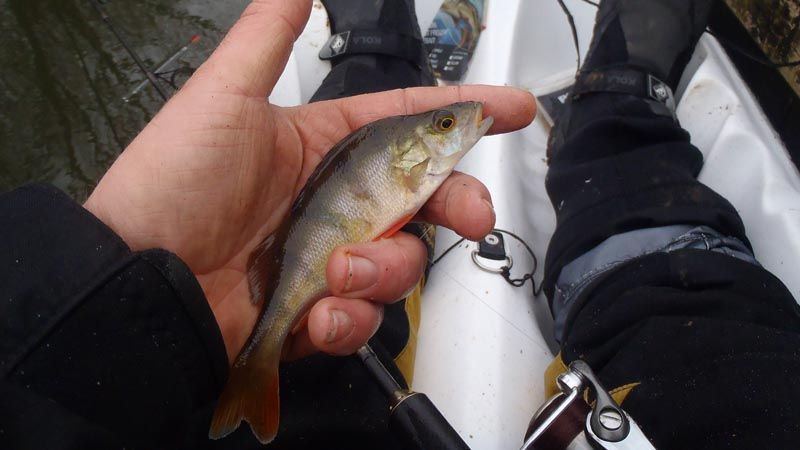 Finally I had a roach of a useable size and rigged it for a pike; this had to work surely? I located Mark again and started to fish while he walked to McDonalds to get the coffees. Meanwhile I got plagued by swans.
Coffee and fishing, I've spent worse times afloat! I still couldn't get a pike though and nothing on the waggler here either. Mark was in the same boat so to speak and Paul's lures weren't catching either so we set off to a promising spot. That was no good either so it was back to the launch point, fishing the corner.
Perch were chasing the small roach, the same sort of size I was catching; then a rudd…I may not be catching pike but I'd knocked the first three species off my freshwater list.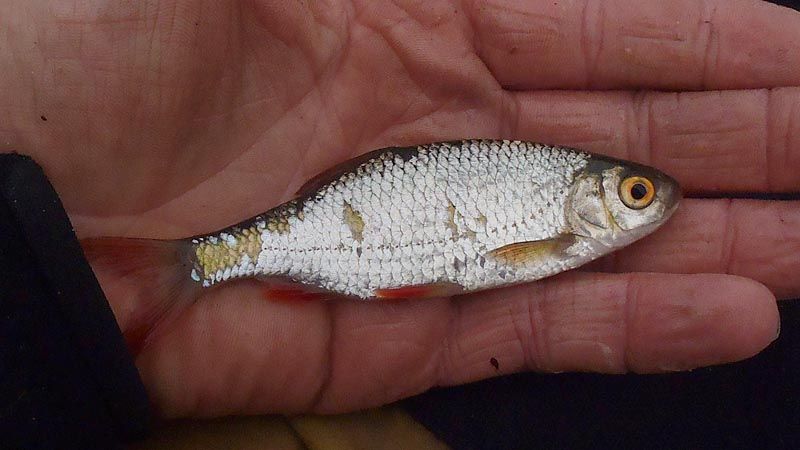 Time was getting on, we had another half an hour. I put the pike rods away and moved under the bridge to try for another species or two. Another chap on the bank was fishing light with a leadhead and a jellyworm near us, catching perch and chub. I just had more of the same and then it was time to get loaded back up and drive home; it was then, while putting the kayak on the roof, that I watched him land a pike twenty yards from where we'd launched that morning. Oh well; we set off home, regaled by Mark on the phone telling us of the near-twenty he'd just landed. So, not only was the weather, my drysuit, car and kayak damp but so was my enthusiasm. Still, there's always next time...and at least the kayak was dirtied now!